Have you ever seen posts like "Earn 10000 by working part-time, no qualification required" on social media? Does this fascinate you? Many companies these days claim to give you a good income by joining them, which is not so easy.
So if you are an affiliate marketer or someone who wants to do affiliate marketing, you must know which things to avoid in this field. "Earn 5000 per hour with income proof" This kind of tagline might attract you, but you should know the dark side of these companies and their people.
One of the biggest names in this industry is 'LeadsArk' founded by Ayaz Mohammad. Although LeadsArk claims to guide people in affiliate marketing and help them earn rapidly, After a lot of research, I have found some shocking information that shows the Hidden Agenda of this company.
So, in this article, I will unveil the dark side, of the work process and will give you the honest LeadsArk Review. You will also learn how real affiliate marketing is different from this company and how you can save your affiliate marketing career.
About & History Of LeadsArk
LeadsArk is a Kolkata-based company that helps people learn Affiliate marketing and build their web presence. Their mission is to create 1 million digital Entrepreneurs in India to grow the Indian economy by providing online affiliate marketing programs.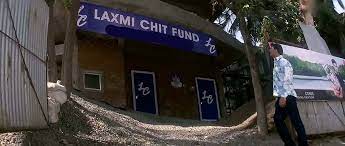 So, what after you take the program? They promise you to generate 25-30 organic leads per day without creating any ads which are also not verified. There are many complaints from their customers that they don't get 25 tips.
LeadsArk claims to sell their product by affiliate marketing but let me tell you, and it's not true. Soon, you will see how they are making fools of people by saying their sales campaign is affiliate marketing. LeadsArk founder Ayaz Mohammad mentioned that he started his affiliate marketing business, and it didn't work. He found some mentors who helped him achieve his goal of earning 30000 dollars in just 12 months, which has no proof.
Who is the Founder of LeadsArk?
Ayaz Mohammad is the founder and the current CEO of LeadsArk. He is an affiliate coach who aims to create revolutionary affiliate marketers in India or Killer affiliate marketers, as mentioned in their official Insta handle.
I found one article on one of the biggest web portals named Hindustan Times the article was simply redirecting a thought that says Leads Ark is one of the best affiliate marketing program providers but do you know? The article was paid for! Yes!! Even the Hindustan Times mentioned: 
Disclaimer: This is a company press release. No HT journalist is involved in the creation of this content.
Also, I found the same thing on Asia's one of the biggest news portals ANI! Even on ANI LeadsArk is featured and there also the article leaves a positive impression on the audience. Guess what the article was PAID! Are they becoming one of the biggest affiliate scammers? Read The Full Article here: ANI LeadsArk Article.
He hasn't mentioned any affiliate marketing company has worked for for 17 years; on LinkedIn you can see him working as an affiliate marketing coach since 2017. Oh, wait, What if there are two Ayaz Mohammad from a parallel universe?
Now let's take a look at his earnings mentioned on leadsArk's official website. With organic leads, he has earned 257000 INR in just seven days and 30 Lakhs rupees in a single month from his website online wisdom with Ayaz, where he also sells his course.
I must tell you the website is too sketchy and it's not fair that Mr. Ayaz did not spare some more money on his website which gives him a profit of 30 lakhs a month.
The scariest fact is he did not provide any contact or customer support details on his website; imagine you have some issue with the payment, and you don't know who to contact or how or where. I thought the god of mischief was Loki, but here I've to think again.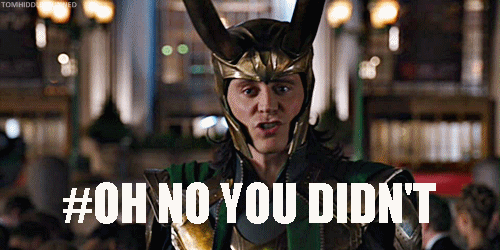 Why LeadsArk Had Been So Popular Till Now?
LeadsArk's primary purpose is to create good affiliate marketers in the market, as they claim, but the truth is, after you purchase their course, they tell you to sell their systems to others. They also represent their company as an affiliate marketing company.
As a result, you see almost every affiliate promotes their courses to be rich. Here is the twist, if those affiliates are selling a product, they should tell more and more about the core product, but they show how they are making money.
So that's a gimmick they are not selling their product. It's more like they are buying time and energy from customers, getting them trained, and asking them to sell the product.
Now how they have managed to get so much attention from social media users. It's possible because of their cheap marketing strategy; you'll see a lot of Facebook posts where they say, You can earn 10000 per week or 2000 a day just by working part-time for 2-3 hours, and it requires no qualification.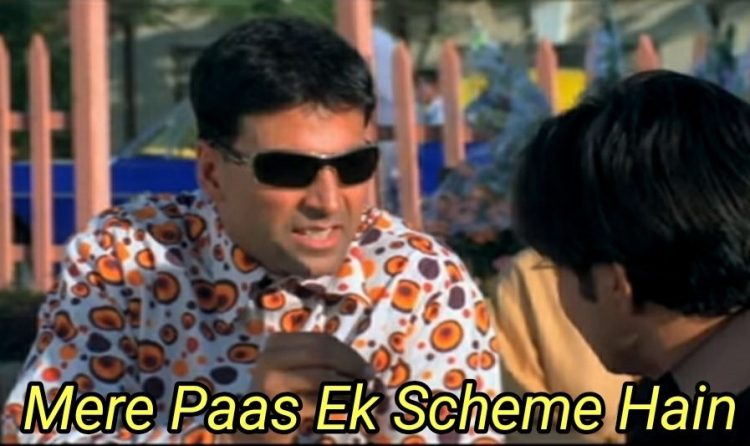 Generally, young people who have no idea about all of these, no idea about finances, get attracted, and they take it as a golden opportunity to earn much money by working less.
Now the most active social media users are teenagers or college students, and You know what attracts you when you are a teen?
The answer is simple: as a teen or a new college student, you have fewer financial goals with some basic materialistic things such as an expensive smartphone, A laptop, a bike, or a premium watch.
So these affiliate marketers show every expensive thing they have and showcase it in the form of success. It's like having an iPhone makes you more successful than having an investment plan at an early age. These so-called marketers have no idea about ethics; they are just a bunch of dumb people waiting for other dumb people to join them.
When you manipulate others to have the same phone, you are not doing it right. You buy a smartphone to use it, not to showcase it as a form of achievement. Remember, you want something, and you need something that isn't the same. Eventually, few people do fall into the trap of these, which serve their purpose.
Now, when someone joins their program and takes the course, they are told to do the same as they saw. When they can't generate leads as per the requirement, they also come to the wrong side of the path.
There are too many types of content on different social media sites like Instagram reels, and stories with captions like earning 2000 in just 5 minutes, which attracts more audience, especially when they say it has no qualification requirement. They never give importance to education and other aspects. Which impacts students in a very wrong way.
Now the hilarious part: While every professional keeps their income figure private, showing off your exact salary or profit is not a good thing to do, and these affiliate marketers repeatedly show off their daily earnings, weekly revenue, or monthly, which is the most stupid thing I've ever seen.
They never tell you about the hard work, how much effort it takes, and the cons in their system. They will just make you feel that you can earn the same money just by buying their product.
The Miracle Of LeadsArk
LeadsArk provides you with a course with a book and live sessions. The course will teach you how to generate 20-30 leads per day without spending a penny, as mentioned by the company. They also teach you how to create regular tips through Facebook & other social media platforms.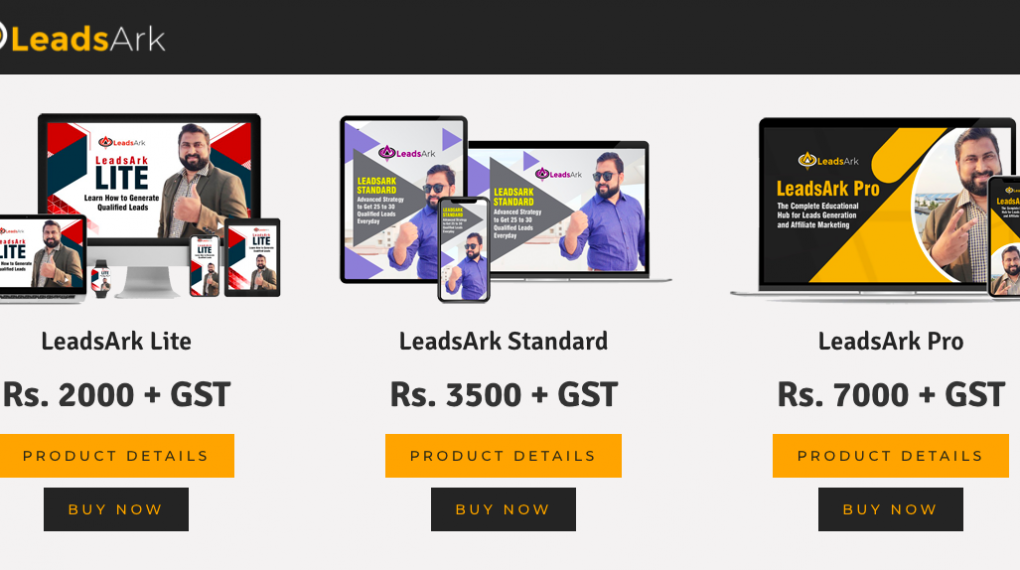 Things That Make You Love And Hate LeadsArk
LeadsArk is providing online courses on affiliate marketing in one place. You'll get access to books, online workshops, etc. Now the products they are providing are maybe not up to the mark. I'll come to this topic later, but that's not the issue. Also, they mentioned that they want to create 25k Indian affiliate marketers by 2025.
Now the question is how they are tending to achieve this mark. There are many things you'll not like which I don't like at all. I'll now tell you about the cheap marketing strategy of leadsArk's affiliate marketers and about my experience too.
So first, let me tell you what Affiliate marketing is. Now you must be surprised at why I'm saying this. Affiliate marketing is when a company gives a commission to a person who promotes its product and people purchase it. People can generally join many trusted affiliate marketing programs for free; typically, there is no charge to participate as an affiliate marketer.
If you don't know, you can't join LeadsArk until you pay them and buy their courses which are not affiliate marketing.
It's called Network Marketing which works on the MLM( Multi-level marketing) model. You have to buy one of their courses, and even the cheapest one will cost you Rs. 2000 excluding GST.
Now I don't get that when you claim your product is so good, why lie and misguide people, especially young students?
Now I'll tell you the cheap marketing strategy of their affiliates in brief. When you visit their social media, they always use cheap catchy bios about their earning, telling themselves entrepreneurs while an affiliate marketer is different.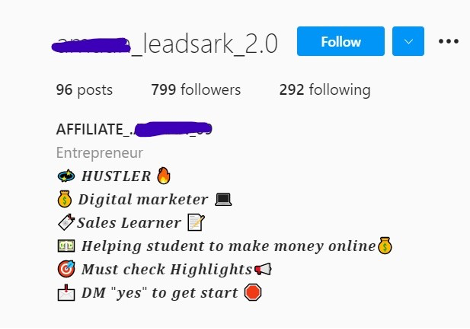 They usually address themselves as they are helping students make money online while just selling and growing their business.
The funniest part is they try to sell you their product and say that they give you a lifetime opportunity and many other things. Imagine the level of overconfidence and arrogance they carry on this platform.
Now let's come to their social media handles; as I have mentioned before, they always put their earnings record or bank statements on their story highlight.
They will try to motivate you with higher goals like having a luxury car or a luxury house, but when you visit their profile, you see many bunches of people showing off their phones or laptops as their achievements.
Now let's come to the content; even I was shocked after seeing some of the content, which was way beyond the limit. Usually, they make reels about time management, hard work, and gaining knowledge, but they think that's only available on their platform. 
Their contents are always meant for the people who have not joined the platform. They'll address those people as lazy, low-skilled, and Unemployed in their content.
It's like 7 billion people globally, and there are a million ways to earn a living, but I believe it is the only way to make good money. If you think there are such people? Well, the answer is yes, I have seen them.
Now Guess how far you'd go to promote a business or platform. To give an idea of LeadsArk affiliate marketers, aka Entrepreneurs, I'm attaching some screenshots of their content below. It's not about the product or something, and it shows the desperation and cheap mindset to sell products.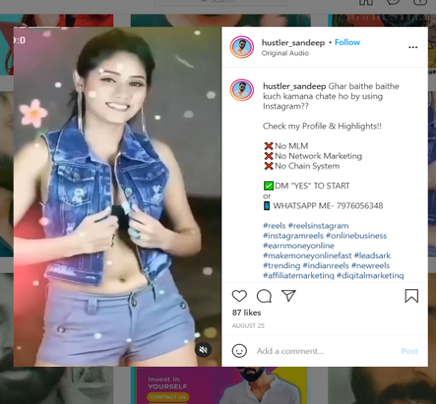 Now let's come to the funniest part. When you contact them about joining their program, they'll send you a video explaining their business.
 After that, you decide not to do it; they'll text you repeatedly, they will act clingy, and send you other earning records and motivational quotes, which were fun for me. Okay, now you are again surprised, let me show you some examples-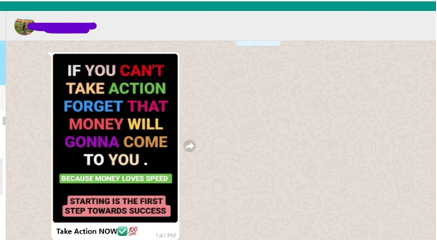 They work on MLM systems. Some of them mentioned the earning process, which is similar to network marketing. When you promote their product, which is INR 4000, and sell their product, you'll get a commission of INR 2800.
When someone buys the product from your link again and sells it to another person, you'll likewise get a commission of 400 Rs.
Now the thing is, affiliate marketing never offers you such a huge commission. The most important thing is When you are getting a commission of 2800, now who made you join this gets 400, so the company receives 800 per sale.
Now it's time to ask yourself Why to pay such a massive price for a book where the actual cost is 800 and ask yourself if it is fair to sell the same product to your friends and family by lying to them.
There are many leadsArk reviews on Quora where they have mentioned leadsark as a scam due to all of these reasons.
Some of them who have taken their classes are mentioned to be average. You can have the same level of knowledge on YouTube for free, so why spend so much money on this?
The Billionaire Guide On LeadsArk That Helps You Get Rich
Now you see the opposing sides of leadsark and their affiliate marketers. But the question is does it affect them that much? How people are earning so much on this platform?
When people join their program you pay for the course. Now if you buy a Rs.4000 course then whoever made you join gets 2400. Now If you sell the same course, you get 2400 and he gets 400 as a bonus. Now you see how their affiliates manipulate young people, especially teenagers.
These people over Facebook tell how to gain five figures earning by working part-time, only for students. Now their primary purpose is to sell the course; whenever you talk to them, you'll always talk about money, Target, etc., and even their social media handle is filled with posts of people earning.
So there are people who don't care about the people and sell the products anyhow. When the people join under them and start trading, they get a bonus that doesn't need any hard work.
This makes it the same as network marketing, where the people get the most benefit and become more prosperous from the beginning. When you see people earning too much a day, it's those very few people who somehow got lucky with their hard work.
Conclusion
Now you all know LeadsArk does not perform affiliate marketing; it basically follows MLM.
So if you want to be an affiliate marketer, this is not the right thing to do. If you are still wondering, if not you, then which people are perfect for this platform?
People who only focus on money.
People who can do anything to reach their goal.
People who don't care about others and manipulate people.
You should never invest a single penny in any affiliate program because a simple affiliate program never charges people who join them. I have no problem with them if they call it Network marketing and don't cover up with affiliate marketing. So if you want to do affiliate marketing you should start by writing a blog and join a trusted affiliate marketing like Impact, Meesho, or Amazon affiliate marketing.