Free Windows VPS RDP Hosting Deals: Are you a Windows user and struggling to find a free Windows VPS RDP host?
Then your struggle ends here with us.
Since we have boiled down the most popular free RDP hosting deals for you. Which will help you in scaling large projects on the best windows VPS server without any hassle. Along with that, you'll get to know how to get free RDP hosting in no time.
As the demand for Windows VPS RDP is expanding day by day. And more and more people are relying on remote Desktops to run their heavy tasks, which a regular PC can't do.
So, in such a case getting a free Windows VPS RDP is difficult as the number of RDP users is rising at a tremendous rate. Especially during the lockdown.
But after a long hassle, luckily, we found some well-known RDP hosting providers that provide free RDP hosting for everyone.
No matter if you're a college student or a passionate Entrepreneur, if you are looking for a way to host your websites, blogs, or portfolios on Windows VPS servers. Then with these hosting providers, you'll get everything in an instant.
So, stick around and learn what an RDP server is? Then plunge into the list of most popular Windows RDP hosting providers.
Okay! Without wasting any further time, let's get started.
Firstly, What is RDP?
Briefly, RDP stands for Remote Desktop Protocol that was developed by Microsoft, it is basically a graphical user interface for Windows servers that connects local servers to remote Windows servers through a network connection.
But here, the question arises: why do you need RDP hosting when you have your system?
If we have to put it in simple words, then regular PCs can't run heavy tasks for a long time. And this can cause trouble for online business websites. And that's why RDP hosting comes in.
RDP hosting is nothing but just a type of web hosting business. In which the company rents out its windows VPS servers to its clients by allocating dedicated IP addresses and credentials after users purchase the RDP plan.
To access those Windows remote servers, users have to enter the IP address and credentials details in their Windows remote desktop connection or, we can say, RDP software that is pre-installed and available on most versions of the Microsoft Windows systems.
So, yeah! That's what we call RDP hosting.
What is carding in RDP?
So, carding is an illegal activity or credit card fraud, in which stolen credit cards are used to charge prepaid cards or buy something from an online store.
As you have noticed, some companies in the market ask for credit card details in exchange for their free service. And in the end, people end up being fooled by them.
The same thing also happens in RDP hosting, as numerous tacky hosting companies offer free RDP hosting for credit card details. But in the end, they come out as fraudsters. But this won't happen with these RDP hosting that we have mentioned below as thousands of users trust them all, and even some companies don't ask for your credit card details.
We have already covered the best DMCA Ignored Hosting providers for your adult and gambling websites.
What are the Main Benefits of the RDP Server?
There are a whole bunch of benefits that one can get from the RDP server, and some of these are explained below:
Easily accessible:
No matter where you are, you can remotely operate RDP servers even if you're sitting right in front of your Windows system.
All you need is just the IP address of the computer that you want to connect with your local server or PC.
And everything will appear on your screen in no time.
Saves money:
One of the main benefits of an RDP server is that you don't have to buy expensive PCs to run remote desktops. All you need is a Windows system environment.
And even some hosting companies offer free RDP servers that can save a lot of bucks.
Data security:
When it comes to hosting your data on another server, then security plays a significant role.
That's why Remote Hosting providers invest massive amounts in systems to keep your data safe. They also provide backups for your data in case it gets lost, then you can easily retrieve it from remote servers.
Plus, a dedicated Support team of experts will always be there for you 24/7.
So, these are the main benefits of the RDP server, There are plenty of other benefits also, but we have focused on the common ones.
Most Popular Windows RDP Hosting Providers
These best Windows RDP hosting providers are carding free which means you don't have to give your card details to purchase free RDP hosting.
#1 RDPhostings.com

RDP Hosting is one of the most popular companies we have come across and provides free RDP servers for a lifetime.
Isn't it a great deal? having a free RDP server for a lifetime while other hosting providers offer free trials for a month.
The main motto of this company is to offer fast, reliable, secure, and free RDP hosting with ample features.
They guarantee to safeguard your data and will not share your resources with other users. Plus, you'll get a quick installation and full admin access with any RDP plans.
Features
Lifetime Free RDP Hosting
NVMe SSD Drives For Fastest Response Times
Fastest Windows Servers 12, 16 Preinstalled
Full root Access
weekly Backups
99.99% uptime
Instant setup
Plans & Pricing
The RDPhosting free plans are categorized according to their servers, such as:
Startup(UK)
Full Admin Windows(Netherland)
Full admin non-shared(UK)
Super High CPU config(France)
The rest of the details can see in the picture.
#2 MonoVM

MonoVM has been in the business of Windows VPS RDP hosting since 2015. Their RDP server plans are based on Vmware ESXI and Intel CPUs.
However, they don't offer free RDP servers(Windows) but you can get cheap Windows VPS hosting plans with robust features.
Although they offer options for full root access and for, you have to pay around $14.99/m, and if you don't want full root access then you can go with other limited plans.
Their RDP servers come with pre-installed software to make them efficient and easy to use.
Here, your server will be ready within 15 minutes after you place an order.
Features
Severs runs on Intel and Supermicro processor
Unmetered Bandwidth
SSD RAID 10 technology
Security: TLS/SSL
20 RDP server locations
Managing Databases
Multiple payment gateways
Plans & Pricing
As we have already mentioned, the company doesn't offer free RDP hosting, but you purchase Windows VPS RDP servers at affordable rates, and they do not compromise in terms of RDP hosting features.
The plans come in four categories, and the basic one starts at $16.99/month.
#3 VPS server
Whether you are using Windows Server 2016 or any other server, their Windows Virtual Private Server makes it simple to buy RDP from them.
VPS servers are a well-known company with many client bases and an extensive array of server locations. And up till now, they have gained 5000+ delighted customers and have 17+ server locations.
Features
Servers run on intIntelocessor
100% SSD storage technology
Free 7-days trials
15+ server locations
Full admin access
99% uptime
Unlimited bandwidth
Plans & Pricing
VPS server offers free trials for seven days, and after the trial period is over, if you like their service, you can purchase RDP with a VPS plan at just $24.99/m.
Activate Free VPS Trial Now
No single point of failure. 99.95% guaranteed uptime
Join the tens of thousands of companies already enjoying Kamatera's Cloud infrastructure
#4 Ixremote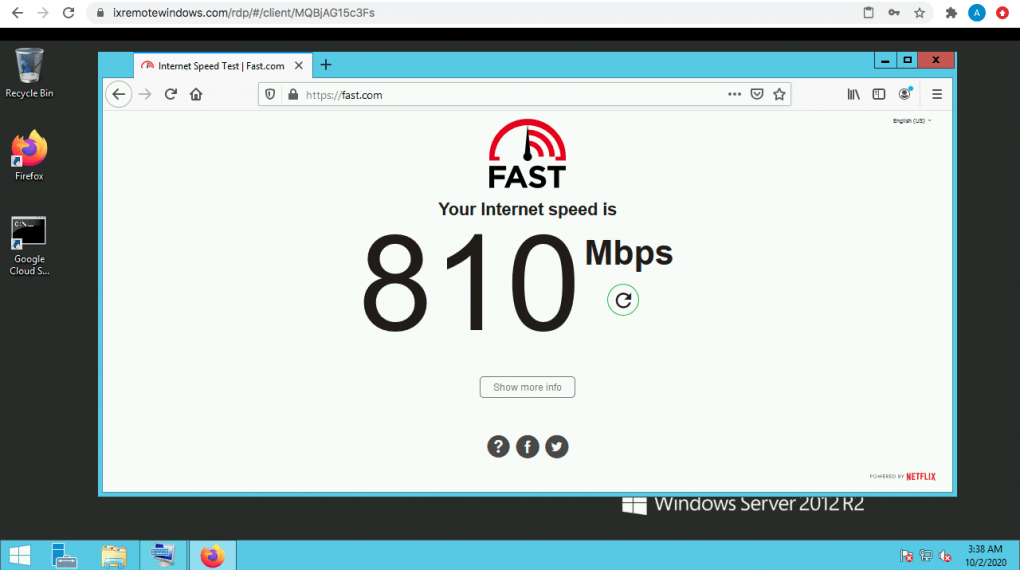 If you are a student and don't have a credit card but still want a free RDP server.
We can understand how hard it is to earn in student life, so that's why we bring you Ixremote which is an accessible private RDP dedicated server that comes with 100% clean IP with full root access.
And you know what? Even if you don't have a credit card, you can also get free trials for a month because the company also has an option of an accessible RDP server with no credit card.
Features
4x Intel Xeon processor
4 GB RAM
80 GB SSD Storage
1 GBPS Speed
Unlimited Bandwidth
1 Dedicated/Private IP
Full root access
Plans & Prices
Ixremote offers a free RDP plan for a month but if you are an expert you buy an expert RDP plan starting at $24.99/m that comes with
Intel Core i7-6700
4 GB RAM
50 GB SSD Storage
1 GBPS Speed
Full Root Admin Access
What is the Difference Between RDP and Regular PC
To understand the difference between RDP and a regular PC, you need to understand the remote server and the local server.
If you already know the difference, then well and good if not, then let us explain to you.
If the server is outside of your system(laptop, computer, etc.) Then it is said to be a remote server. Whereas if the server is your system(PC or laptop), it is a local server.
So, it's time to understand the fundamental differences between RDP and Regular PC.
RDP is a Windows software that connects your Windows local server to a remote server through a Windows network connection.
That means you rent a window's virtual or remote server, usually owned by a company and managed by a team of professionals. To access that remote server, you must know the name and the location of the server. And on the other hand, a regular PC is your PC in which you manage all your data independently.
How to get a Free RDP Hosting?
We hope that now you know the theoretical stuff about Windows VPS RDP hosting. And it's time for some practical knowledge.
So get ready as we will walk you through the guide to get RDP hosting for free.
First and foremost, all you have to do is to navigate to the official page of the RDP hosting provider that you have selected.
Then find out the services section and click on RDP Hosting.
Then you will be redirected to the page where the free plans were mentioned, and from there, choose the program and click on the buy button.
After that, you'll be required to sign up with an email that could be your original or the one you've created/rented for this purpose.
By the time your mail is verified after that, you'll get a free RDP trial for a month or a lifetime. Then you can download the RDP file and run it on your system.
Then, enter your Dedicated IP address given by the company and the Free RDP username and password, which you created while signing up on your remote desktop server.
That's all; now, you can use a free RDP server depending upon the time limit given to you by the RDP hosting company.
How to connect RDP on Windows Desktop
Here in this guide, you will find out how to connect to RDP on a Windows desktop.
This is simple.
But before that, first, determine the IP address of the remote desktop server from your host and ensure that it allows the remote connection.
Then apply these steps:
Click on the "Start" button
Then on the search bar, type "remote desktop."
After that, click on "remote desktop connection."
Then a remote desktop connection will appear on your screen, and it will ask you to enter the computer name or IP address.
After you fill in the IP address, then click on the connect button. And now you are ready to use the remote server.
FAQ's: Free Windows VPS RDP Hosting
How to get a free RDP server?
You can get a free RDL server with these RDP hosting providers that we have mentioned above, and some of them even offer free RDP hosting without a Credit card.
Is the RDP server safe?
The bitter truth is no RDP server is not safe, as we have seen several cases where RDP became a common way for hackers to steal valuable information from devices and networks.
How is Google remote desktop?
It's the easiest way to connect your desktop or share your screen with other computers in real time. And trust me, it is good enough.
Is NoMachine slow?
As NoMachine is only for Linux OS and it could take seconds for the Linux server screen to refresh. It often works relatively slow. However, they are trying hard to reach a faster response speed.
Conclusion
So, this concludes the list of Free Windows VPS RDP Hosting. And trust us, they are all worthy of being called the best RDP hosting and will host your large projects, and database without any hassle and will give you peace of mind.
So, yeah, that's all for now. If you want any other details about RDP hosting, then you can leave your valuable comment below.