Well, Godaddy and Bluehost, are two of the most respective names in the history of Domains and Hosting. When it comes to Domains, people blindly trust Godaddy and there are many reasons behind it, like the prices, simple Buying Process, easy domain Manager, and many more.
Due to these reasons, most of you guys working on Websites or blogs have your domains purchased from Godaddy and Hosting from Bluehost, because it is a very trusted company when it comes to hosting.
They have a huge number of Customers and most of them are satisfied, no matter which plans they are using, Shared, VPS, or dedicated. They Provide real quality.
So, that's why a lot of people will be looking for this tutorial, because when you start with any of these companies or have a domain on Godaddy and Hosting on Bluehost, You will most likely face this problem where you wanted to Point Godaddy Domain to Bluehost, but was not able to do so, due to lack of knowledge.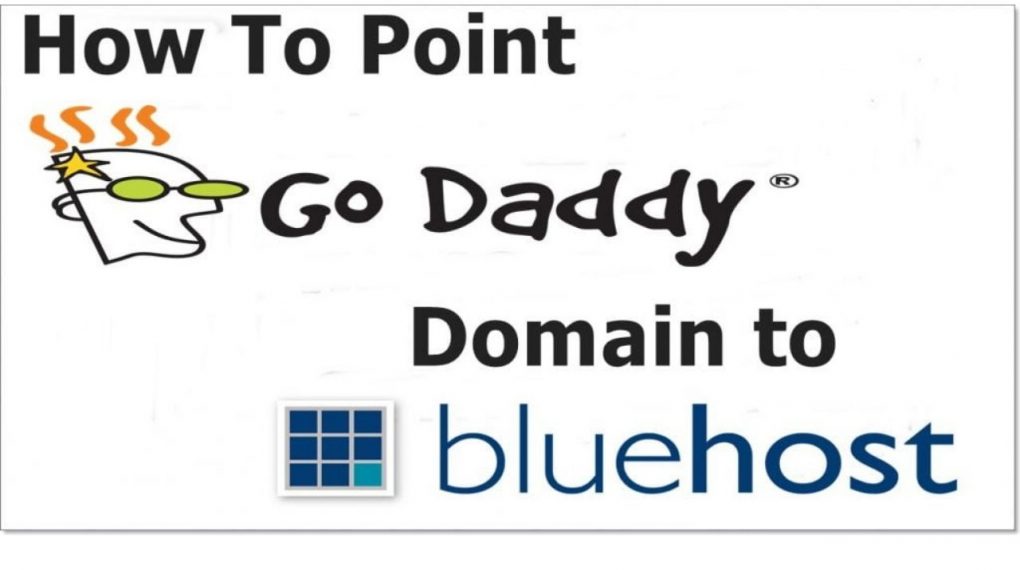 If you are facing the same problem, then No worries, you are right place. Below is the simple step-by-step Guide which will take you through this process without any hassle.
Smart and Simple Guide to Point Domain from Godaddy to Bluehost
In the first step. Just login to your Godaddy Account and Navigate through to Domain Manager where you will find many, From them all, just select your desired domain that you want to host on Bluehost. There you will see a screen like this (see screenshot given below).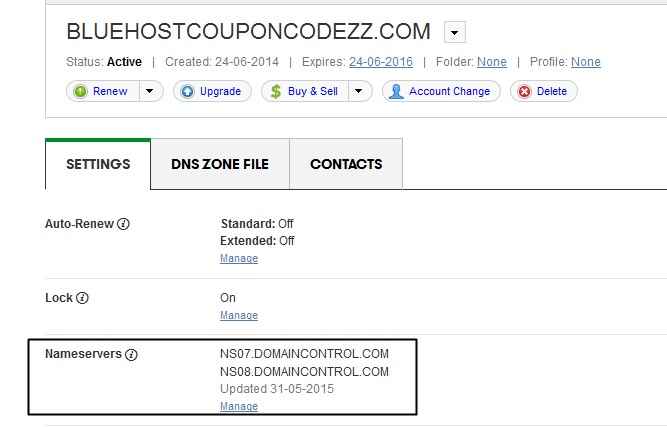 Now, you will see a field, "Nameservers", which is the place where you need to place nameservers of Bluehost. Just click on Manage, select Custom add these given Nameservers, and save it.
NS1.Bluehost.com

NS2.bluehost.com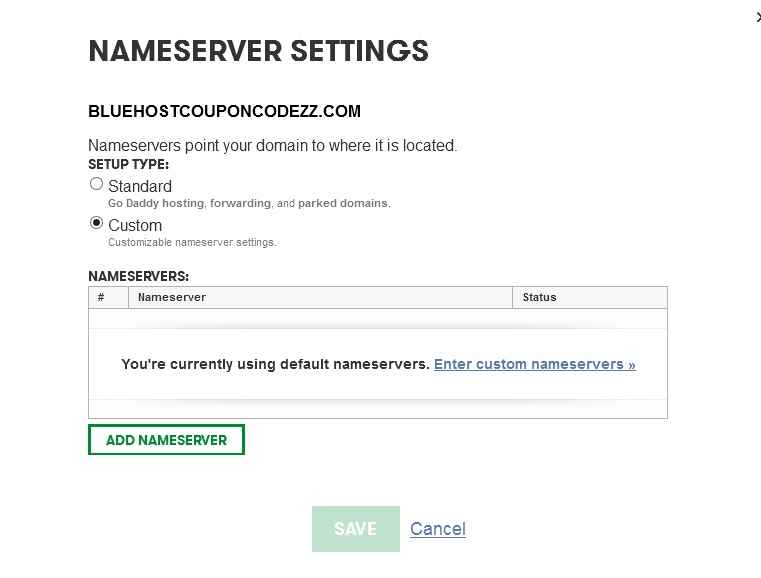 After saving, you will see something like this on screen.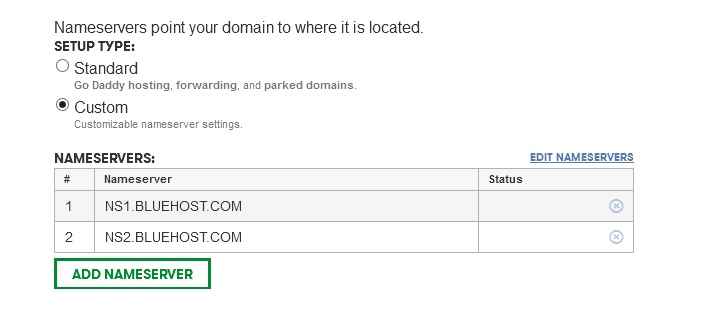 After saving nameservers, generally, it takes a few minutes to update, but it can take up to 24 hours in some cases. Meanwhile, you can start building your website on Bluehost, by adding your domain and installing WordPress on it.
Once the Nameservers gets updated in Godaddy, your Website or blog will be live. Isn't it easy? Yeah! It is. But if you still find it difficult, then feel free to ask any question. I will surely answer your query as soon as possible. Cheers.
FAQs: How To Point Godaddy Domain to Bluehost
Ques. What are the DNS settings and why change them?
Ans. DNS settings are something like the address book of the internet. They change easily collectible domain names into IP addresses that computers may use to locate websites. You can make sure that your domain points visitors to your Bluehost-hosted website by altering the DNS settings to use Bluehost's name servers.
Ques. What is the need to point the GoDaddy Domain to Bluehost?
Ans. You might want to do this if you have purchased web hosting from Bluehost and want to use it to host your website. Pointing your domain to Bluehost allows you to associate your domain name with your Bluehost hosting account.
Ques. Will I need to pay additional fees for this?
Ans. Generally speaking, there are no costs involved with directing the domain to Bluehost. To make sure there are no unforeseen expenses, it is crucial to review the terms and conditions of your hosting and domain registration services.
Ques. Is it possible to reverse the domain pointing and return to the original DNS settings?
Ans. Yes, you can revert your domain's DNS settings to their previous configuration if needed. Simply access the DNS settings in your GoDaddy account and change them back to their original values.
Ques. Can I point multiple domains to my Bluehost hosting account?
Ans. Yes, you can point multiple domains to your Bluehost hosting account by following the same process for each domain. Additionally, each domain's DNS settings will need to be updated separately.
Wrapping Up
At last, it can be concluded by saying that you need to update the DNS setting of your GoDaddy domain. Also, you should have a consultation with the support resources or the documentation specifics of Bluehost as well as GoDaddy.
They can provide you with updates and will also let you know about any variations that have been made in the procedure and instructions. Remember that you can keep your domain registered with GoDaddy while utilizing Bluehost's hosting services, providing flexibility for your online presence.
Even though the procedure is simple you find issues, then it is suggested to seek assistance and help from the customer support of GoDaddy and Bluehost.