Centre Culturel La Ronde gearing up for annual winter carnival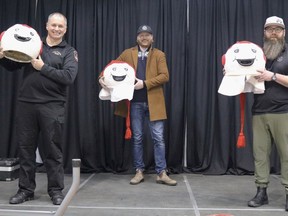 Article content
For 53 years Centre culturel La Ronde has been hosting a winter carnival in Timmins, and despite the current situation regarding the COVID-19 pandemic, the tradition will continue in 2022, albeit a little bit different.
Advertisement
This advertisement has not loaded yet, but your article continues below.
Article content
"Even in a pandemic, we had a whole carnival planned, but unfortunately because of the restrictions, and all of the last minute organizing of events, we have decided to do it virtually," said Lisa Bertrand, executive director.
"However, there are some events that are scheduled."
Bertrand said only one carnival was completely wiped out, after the devastating fire of the former La Ronde building on Mountjoy Street South in 2016. She and her team have been working hard to ensure as many activities as possible take place during the two week event which runs from Feb. 7 to 19.
Some events, such as the ball hockey tournament, have been put on the shelf for this year, but there will still be plenty of ways to participate.
A window decorating contest will take place with two categories – one for schools, businesses, and services, and one for residential. There will be prizes available, but they have yet to be announced.
A lot of the carnival's events will be dependent on what happens between now and then regarding the provincial government's decisions on reopening.
"Everything is organized, however things can change," said Bertrand.
There will be Zumba classes, dance classes, and cooking classes, all broadcast virtually. There will be a reading at the Timmins Public Library on Tuesday, Feb. 8 at 1 p.m.
On Saturday, Feb. 12, the Downtown Timmins Business Improvement Association will be organizing an event, which will include a winter market, bonfires, and a possible appearance from the BeaverTails food truck.
Advertisement
This advertisement has not loaded yet, but your article continues below.
Article content
Bertrand said they are also in the process of organizing a concert, and said the La Ronde website will have the entirety of details, links, and further information ready by the end of the month.
The tradition of Bonhomme Carnaval will continue as three locals have been named as the possible figure behind the costume. Rick Lemieux of the Police Foundations Program at Northern College, Cameron Grant of the Timmins Chamber of Commerce, as well as Jonathan St. Pierre of Full Beard Brewing are the candidates.
"I'm involved with La Ronde, I've been teaching the DARE program here for our local French students. So I was asked to, maybe, be the Bonhomme Carnaval, and I was excited for it," Lemieux told The Daily Press.
"Every year I'd be excited to see Bonhomme Carnaval, so it's fun to be able to do what those other people did for me when I was little."
Grant echoed the sentiment.
"Growing up in a French Immersion setting, I was always excited every year when Bonhomme Carnaval came around, and for the festivals," he said.
"I'm pleased to able to have this opportunity to engage with the francophone community, not just from a business standpoint, but also the cultural standpoint."
St.Pierre has long been involved with the carnival, and is also very excited for the event.
"We've had a good partnership with La Ronde," he said.
"Under these circumstances, we've had to pivot a bit, but we're still excited to bring some cheer to the community. That's what its all about."
Advertisement
This advertisement has not loaded yet, but your article continues below.
Article content
Bonhomme is going to be at Mount Jamieson Resort on Feb. 14, among other drop-ins.
"If schools or businesses want a visit from Bonhomme, there is only limited space, and it will be the 15, 16, and 17 of Feburary," explained Bertrand.
The big reveal will be on Saturday, Feb. 19 at the Dante Club, where the identity of Bonhomme will become known.
Also on the final day of the carnival, at 11 a.m., magician Eric Leclair will be performing.
"If there are restrictions, he'll still come up, we'll film it virtually from the Dante Club. If we have a limit on people, if we can only have 20 kids lets say, we'll have 20 kids, the rest will have to be done virtually. So keep an eye out on that, because it will be first come, first serve," said Bertrand.
For La Ronde members it will be free, for non-members, it will be $10 to enter.
Sleigh rides are also planned for the carnival, thanks to donations from L'Alliance de la Francaphonie, and Collège Boréeal.
A band from North Bay, Les Gens Du Nords, who play traditional francophone music will also play on the carnival's final day.
Bertrand also said the Bonhomme has been a favourite part of the winter carnival since she was a kid, and is happy to keep the tradition going, but they can always use more help and involvement from the community.
"The carnival is very important, and we are looking for more partnerships," she said.
"Back in the day, there were moose call competitions, and ice fishing derbies, all kinds of stuff. I really want to get as many partnerships as we can. It has been difficult to organize anything in this pandemic for the last two years."