The energy during the final night of the esports East Coast Conference championships in Southern New Hampshire University's brand-new esports arena was electric. Fans, friends and parents alike watched from the spectator lounge and gathered safely below on the main floor as the in-house commentator announced that SNHU's varsity esports team had clinched the victory for the second night in a row. Cheers could be heard from outside the arena as celebration ensued.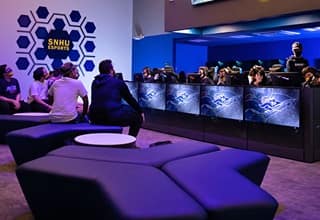 This is just one glimpse of what it's like inside the new building, which opened on Oct. 8, 2021, and took 19 months to complete. With broadcasting and streaming capabilities, as well as 18 high-end gaming PCs, the players have everything they need to compete at the collegiate level in games ranging from League of Legends, Overwatch and Rocket League to Super Smash Bros Ultimate and Valorant.
While the arena's inner workings, from the front desk to the team dynamic, appear seamless, this well-organized and mostly student-run, on-campus facility requires constant collaboration, communication and like any varsity team at SNHU, comradery. In fact, with almost every position filled by a student worker, the arena couldn't run without the hard work from the students themselves.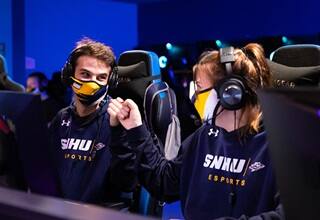 "Our 20+ student workers and interns are integral to us," said Director of Esports Tim Fowler. "Our content team is responsible for all of the graphic design, video production, broadcasting, commentary and social media promotion for the program, and our operations team is responsible for team management, scheduling and maintaining our PCs and arena."
According to Fowler, this allows the varsity players to focus on the competition while the student staff members share their efforts with the world by highlighting and contextualizing esports and ensuring that the hardware and environment are all running smoothly.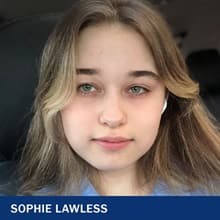 Freshman Sophie Lawless, who works as a social media manager on the content team at the esports arena, said she felt drawn to the opportunity because it combined her passion for social media and videogames.
"Being able to work for SNHU as a student is truly an amazing opportunity. I get job experience while also being able to place priority on my education as a full-time student," said Lawless.
While playing in the brand-new arena, building career experience and even the opportunity to earn an esports scholarship are all huge draws for the many students who apply to SNHU, Lawless said, the best part of her job at the arena is by far the people.
"Coaches, players, fellow employees and those that visit the arena all have a special place in my heart," she said. "It's an amazing and welcoming community for anyone who is interested in not only esports but gaming as a whole."
Discover more about esports at SNHU and its related programs.

Carley Barton is a senior copywriter in higher education. Connect with her on LinkedIn.