Valorant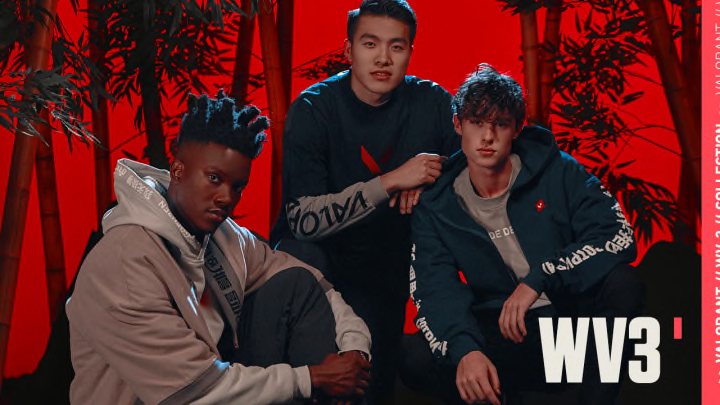 Riot Games will be launching a brand new premium apparel merchandise line for its 5v5 tactical shooter, Valorant. / Riot Games
Riot Games will be launching a brand new premium apparel merchandise line for its 5v5 tactical shooter, Valorant.
Christmas is coming early for Valorant fans this year. Riot Games has officially announced the start of a new merchandise line for its popular 5v5 shooter, featuring apparel the likes of which players have likely been dreaming of. Everything from jackets to hoodies, joggers, those cool long sleeve shirts with designs running up one arm, and—of course—the beloved beanie hat are ripe for purchase once the merch drops.
Below, we've outlined exactly what players can expect once they visit Riot's online merch store.
New VALORANT Merchandise is set to drop on Monday, Jan. 31 / Riot Games
By far, the star of the collection is the "Defy the Limits" Noragi Jacket. This $125 item is surely well-worth the price for some fans due to its unique design and "classic silhouette." It bears the titular phrase on the collar and is meant to echo the "modern workwear" piece of the same style.
Fans who aren't in the market for a new piece of outerwear may find the similar, $95 zip-up hoodie more their style. Valorant's "Defy the Limits" hoodie features an oversized logotype design on the back, across the shoulders, and the titular phrase printed up its arms.
The collection also has two pullover hoodies of the same price:
All three have the game's red-and-white square icon either positioned on the left chest panel or on the bottom hem.
Valorant players eager for activewear—or, really, active-gaming wear—can pick up themed joggers for $70. These pants are double layered with a stretchy elastic waistband, Shatterprint side pocket, reflective logo, and "so comfy they might be from another world."
Like the hoodies, there are three aforementioned long-sleeve shirts in Riot's new merch line for $50 each:
Beanie collectors may want to add this new hat to their drawer. For $35 the "Clutch" beanie is a one-size-fits-most knitted item with a rubber "Valorant" logo and some stylish "Clutch" text so players can proudly rep their favorite game despite the recent cluster of winter storms.
The Valorant Dad hat is another option of the same price for those who want to keep their heads covered but aren't super into knitwear. It's an adjustable suede cap with the game's logo embroidered on the front—the perfect gift this June.
Finally, for fans who still haven't finished spring cleaning their wardrobe, Riot has a brand new premium poster for Valorant Episode 4–"Warm Up." The design is printed on durable matte paper with a variety of framing options to fit every lifestyle from part-time agent to gaming-denizen.
All items stated above can be found on Riot's online merch store. Fans are encouraged to stake their claim before it sells out.