Es gilt als einer der peinlichsten TV-Momente in der Geschichte der britischen Königsfamilie – nun wird ein Interview von Skandal-Prinz Andrew sogar verfilmt.
Los Angeles/London – Es gilt als eines der peinlichsten TV-Interviews in der Geschichte der britischen Königsfamilie – nun wird dem berühmten Gespräch von Prinz Andrew (62) und der BBC-Journalistin Emily Maitlis (51) ein ganzer Film gewidmet! Die Rolle des von Skandalen verfolgten Royals soll dabei der britische Hollywood-Star Hugh Grant (61) übernehmen.
Dieser Film wird vor allem in Großbritannien noch für mächtigen Wirbel sorgen. Königin Elizabeth II. (96) wird sich einen Kinobesuch wohl eher sparen – schließlich galt Andrew Zeit seines Lebens als das Lieblingskind der Queen.
Doch es folgte der tiefe Fall. Andrew führte eine innige Freundschaft mit dem Investmentbanker und später verurteilten Sexualstraftäter Jeffrey Epstein (†66), den er über die inzwischen ebenfalls als Sexualstraftäterin verurteilte Ghislaine Maxwell (60) kennengelernt hatte.
Die Gerüchte und Vorwürfe, auch der britische Royal habe auf Epsteins berüchtigten Sex-Partys Geschlechtsverkehr mit Minderjährigen gehabt, verhärteten sich über die Jahre.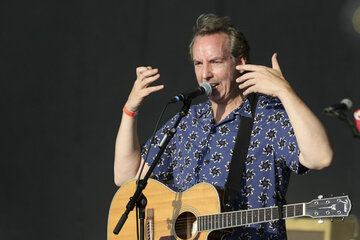 Promis & Stars
Olli Schulz wird ausgebuht und bricht Konzert ab: "Dann f***t Euch doch alle!"
Inzwischen gilt Andrews Teilnahme an den Partys als erwiesen. Mit einem der Opfer einigte er sich zu Beginn dieses Jahres außergerichtlich auf eine hohe Spenden-Zahlung.
Einer der dramatischen Höhepunkte und persönlichen Tiefpunkte von Andrews Geschichte ist dabei ein in England als "Desaster" geltendes Interview mit der BBC.
In dem Gespräch stritt der Prinz von York sein Mitmachen an den illegalen Sex-Partys ab, verhedderte sich aber zunehmend in Widersprüchen und verlor dabei im Auge der britischen Bevölkerung extrem an Glaubwürdigkeit.
Infologedessen trat er von seinen royalen Würden und mtern zurück.
Eben jenes Interview sowie dessen Hintergründe sollen nun verfilmt werden, wie Deadline berichtete.
Der Film wird demnach den Titel "Scoop" tragen und sich auf das Buch "Scoops: Behind the Scenes of the BBC's Most Shocking Interviews" von Sam McAlister beziehen. Die Autorin zeigte sich begeistert: "Ich kann kaum atmen vor lauter Vorfreude", schrieb sie auf Twitter.
Bereits im November sollen die Dreharbeiten losgehen, einen Regisseur hat das garantiert für Wirbel sorgende Projekt bislang allerdings noch nicht.
Bekannt ist allerdings, dass Hugh Grant für die Rolle des Skandal-Prinzen vorgesehen ist. Als Drehbuchautor wird Peter Moffat (60, "Your Honor") fungieren.