WWDC will be an online affair again this year, with the exception of some lucky developers invited to Apple Park, but there will still be opportunities for developers to connect with each other during Apple's weeklong developers conference.

Apple today shared a new "Beyond WWDC" page listing community-led events that will be hosted during or after WWDC, which runs from June 6 through June 10.
For example, the page highlights WWDC Community Week, a community-run event that helps developers to connect with fellow developers at watch parties, mentorship labs, community talks, a hackathon, and more. Other events include Office Hours, the Underdog Devs WWDC22 Watch Party, #iOSDevHappyHour IRL, try! Swift DUB DUB, DubDub Series, WWDC.playground, Extended Tokyo 2022, Devpass WWDC22 Special, and more.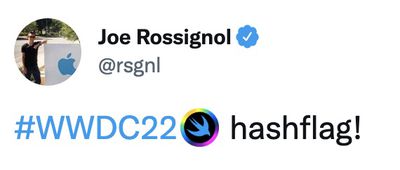 In addition, the WWDC 2022 hashflag has also gone live on Twitter for the #WWDC22 hashtag. A hashflag is a small icon that appears next to hashtags in tweets, with the WWDC 2022 hashflag consisting of Apple's Swift icon in a circle outlined with rainbow colors.
Related Stories
Apple Announces Digital WWDC 2022 Event Taking Place June 6-10
Apple today announced that its 33rd annual Worldwide Developers Conference is set to take place from Monday, June 6 to Friday, June 10. As with the last several WWDC events, the 2022 Worldwide Developers Conference will be held digitally with no in-person gathering. Prior to 2020, Apple hosted WWDC at the McEnery Convention Center in San Jose, California, and thousands of developers and…
Apple Begins Notifying WWDC 2022 Swift Student Challenge Winners
Two weeks ahead of WWDC, Apple has started notifying winners of this year's Swift Student Challenge, with applicants able to check their status via Apple's website. The lucky winners receive exclusive WWDC 2022 outerwear, a customized WWDC 2022 pin set, and a one-year membership in the Apple Developer Program. As an unexpected bonus, Apple is also providing winners with free AirPods Pro….
WWDC 2022 Digital Lounges Now Open for Registration
Ahead of WWDC 2022 next week, Apple has opened registration for Digital Lounges, which are designed to allow developers to connect directly with Apple engineers and designers for guidance. Apple Developer Program members and 2022 Swift Student Challenge winners can register for Digital Lounges on the WWDC website or in the Apple Developer app. Digital Lounges will begin on June 7, the second …
WWDC 2022 is One Week Away: Five Ways to Get Ready
We are now just one week away from WWDC 2022, which runs from Monday, June 6 through Friday, June 10. Apple's annual developers conference will be a (mostly) online affair for the third consecutive year, with Apple expected to unveil its latest software , including iOS 16, iPadOS 16, macOS 13, watchOS 9, and tvOS 16. WWDC is always an exciting week for both developers and Apple fans. Here are …
Apple Shares WWDC 2022 Schedule, Keynote to Take Place June 6 at 10:00 am PT
Apple today confirmed that the keynote event for the Worldwide Developers Conference will begin at 10:00 am Pacific Time on June 6, the first day of WWDC. The keynote will be an online-only event, though a select number of developers have been invited to the Apple Park campus for a viewing event. In addition to confirming the keynote date and time, Apple has shared the full WWDC 2022…
WWDC Invites Could Be Sent Out This Week: Here's What We Know
In 2021, Apple sent out digital invitations for its 32nd Worldwide Developers Conference in late March. Given that an all-digital conference is expected to occur again this year rather than an in-person event, we could see Apple send invitations as soon as this week. Apple last year sent out invitations to developers and the press for WWDC on March 30, with the dates of the conference being…
Apple Notifying Developers Who Get to Attend WWDC Viewing Event at Apple Park
Apple has started sending out emails letting developers know if they've been chosen to attend the special WWDC viewing event that is set to take place at Apple Park on Monday, June 6. Apple began taking applications for the viewing event on Monday, and said that developers would be informed if they were selected by 6:00 pm Pacific Time tonight. Those picked are receiving emails right now,…
Apple Launches WWDC 2022 Live Stream on YouTube in preparation for June 6 Keynote
Apple is continuing to prepare for the Worldwide Developers Conference that is set to begin on Monday, and the company today launched its YouTube live stream where viewers can sign up to get a reminder when the event begins. The keynote event is set to take place on Monday, June 6 at 10:00 am Pacific Time. Along with streaming the event on YouTube, Apple also plans to make the WWDC 2022…
Popular Stories
iPhone 14 Pro and Redesigned MacBook Air Reportedly Stuck Using Technology Behind A15 Chip
The iPhone 14 Pro's "A16" chip may be a minor upgrade over the iPhone 13's A15 Bionic and there are growing questions around the nature of the "M2" chip, according to reputable Apple analyst Ming-Chi Kuo. Earlier this week, the leaker known as "ShrimpApplePro" postulated that the A16 chip for the iPhone 14 Pro models will be manufactured with the same process as the iPhone 13's A15 Bionic,…
iPhone 14 Pro Rumored to Feature Always-On Display Mode
The iPhone 14 Pro and iPhone 14 Pro Max may feature an always-on display mode for the Lock Screen, Bloomberg's Mark Gurman reports. In his latest "Power On" newsletter, Gurman outlined some of the changes set to come to iOS 16, iPadOS 16, watchOS 9, tvOS 16, and macOS 13 at Apple's Worldwide Developers Conference (WWDC) this year. Among the new capabilities rumored for iOS 16 is an enhanced…
macOS 13: What We Know So Far
The Worldwide Developers Conference (WWDC), Apple's annual developer and software-oriented conference, is now a week away. We've heard very little about macOS 13 ahead of its announcement this year, so we could be in for some major surprises when June 6 rolls around. Here's what we know so far about the next version of Apple's Mac operating system. macOS 13 Name? Every year heading into…
Gurman: Apple Preparing to Debut Enhanced Lock Screen, Windowing in iPadOS, Redesigned Mac Apps, and More at WWDC
Apple is planning to debut an enhanced Lock Screen with iOS 16, improved multitasking in iPadOS 16, refined navigation in watchOS 9, additional smart home features in tvOS 16, redesigned apps in macOS 13, and more, according to Bloomberg's Mark Gurman. In the latest edition of his "Power On" newsletter, Gurman outlined his expectations for all of Apple's upcoming operating systems, including…
What to Expect If Apple Debuts a New MacBook Air at WWDC Next Week
With the chances of Apple revealing its mixed reality headset at WWDC 2022 looking decidedly less likely as its developer conference creeps nearer, rumors of Apple's new-look MacBook Air have once again come to the fore. Here's everything we expect to see if Apple chooses to announce a new version of its slimmest notebook next week. Subscribe to the MacRumors YouTube channel for more videos. R…
,