It's been a while since the developer Epic Games introduced Marvel's iconic web swinger Spider-Man in Fortnite. And ever since, the fans are absolutely enjoying this amazing character in the game. However, it looks like one Spider-Man item, the gloves, is experiencing some kind of bug in the game.
ADVERTISEMENT
Article continues below this ad
People are taking fall damage despite wearing the mythical web-shooters. While equipped with the mythic web-shooters, if the players switch to any other item or weapons, while being in the air, they take fall damage.
Surprisingly, switching to other items cancels out the web-shooters fall damage immunity. Recently, a prominent streamer named Ali Hassan, who's better known as SypherPK, did a video where he mentioned this bug.
ADVERTISEMENT
Article continues below this ad
On the 22nd of Jan 2022, the popular streamer shared this video on his YouTube channel More SypherPK. And this is the video where Sypher and his friends discuss this bug. The entire video is pretty fun to watch and is full of hilarious moments. Fans can consider watching the entire video or they could also skip to the part where experts talk about this bug at around the 7-minute mark of the video.
REVEALED: The Only Account Notorious Streamer Dr Disrespect Follows on Facebook
How the Fortnite Spider-Man gloves bug works
When it comes to the Spider-Man mythical web-shooters bug, here's what one of the Sypher's friends says: "If you keep your gloves out, I already did, you do not take fall damage. But it's only if you swap. If you swap, it's like the game registers that you don't have gloves anymore or something. I don't know what's going on."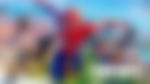 ADVERTISEMENT
Article continues below this ad
After hearing this, another one of the popular steamer's friends adds: "If they do do that . . . it's a pretty legitimate nerf." 
It seems this web-shooter bug is something that the entire Fortnite community is concerned about. The comments section of the video is filled with people having experienced unfortunate scenarios due to the bug.
It's likely that the devs will come up with some update or patch in order to fix the bug soon.
ADVERTISEMENT
Article continues below this ad
Comment down, and share your views on this bug.
WATCH THIS STORY –  Most Hated Features of Fortnite Chapter 2