ABC is introducing a new television family today in the drama series Promised Land.
The show will focus on the Sandovals, a Latinx family living in Sonoma Valley. Created by Matt Lopez and starring the likes of John Ortiz and Cecilia Suárez, Promised Land follows the family as they attempt to maintain their wealth and status in the affluent Californian wine country
The drama launches on television on Monday, January 24, 2022. Here's everything you need to know about the series ahead of its launch.
What is Promised Land about?
ABC describes Promised Land as an "epic, generation-spanning drama about a Latinx family vying for wealth and power in California's Sonoma Valley."
The drama begins with an illegal border crossing from Mexico into the United States. The scene proves to be a flashback as in the modern-day settings of Promised Land, we see the Sandoval family live a life of luxury with glamorous cars, houses and outfits.
The multigenerational family make their fortune as the owners of one of the largest wineries in California, named Heritage House.
Who stars in Promised Land?
Matt Lopez, the writer of movies like The Wild, Bedtime Stories and Race to Witch Mountain, created the new ABC TV series Promised Land.
The Sandoval family are played by John Ortiz (Joe), Cecilia Suárez (Lettie), Christina Ochoa (Veronica), Mariel Molino (Carmen) and Tonatiuh Elizarraraz (Antonio). Augusto Aguilera, Bellamy Young, Andres Velez, Katya Martin and Rolando Chusan are all credited as regulars within the series too.
Recurring cast members on Promised Land include Yul Vasquez, Julio Macias, Kerri Medders and Tom Amandes.
Michael Cueta (Homeland) is credited as an executive producer and also directs an episode, meanwhile Edward Ornelas and Lily Mariye will also direct. Adam Kolbrenner and Maggie Malina also serve as executive producers.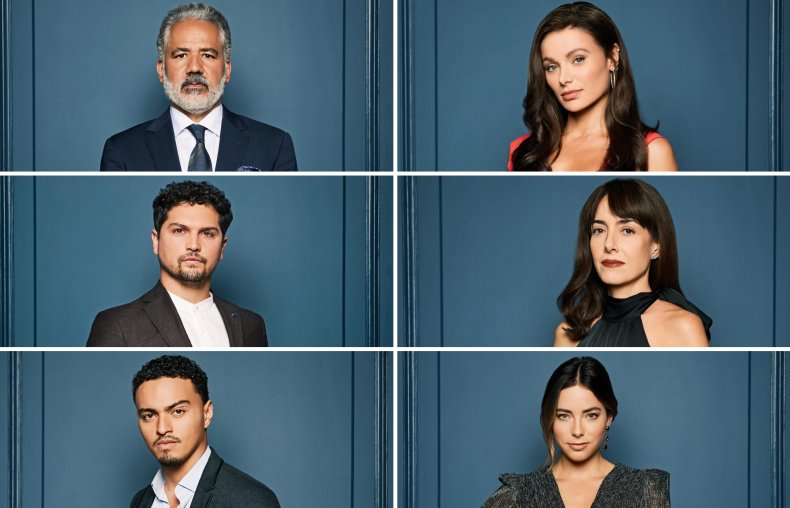 When is Promised Land on and how many episodes?
Promised Land gets underway on ABC on Monday, January 24, 2022, on ABC. The new family drama airs on the network at 10/9c and will also be available to stream on Hulu. New episodes will air weekly every Monday.
The first episode is titled "A Place Called Heritage" while every episode afterward gets an English title and a Spanish-language title.
Episode 2, airing January 31, is called both "La Madrugada" and "Day Break" while Episode 3, airing Episode 3, is titled "La Lucha" and "The Struggle."
While the episodes will air weekly on television, the first two episodes will be available to watch the day after on Hulu.