Mike Tyson has used his podcast as a medium for unique stories. The former champ recently asked renowned Hollywood actress Rosie Perez a question she was never asked before.
ADVERTISEMENT
Article continues below this ad
Perez was talking at the 'Hotboxin with Mike Tyson' podcast hosted by Tyson himself. Moreover, the CEO of Tyson 2.0, Adam Wilk, was also present as the co-host. In conversation, Tyson asked the Oscar-nominated actress what she wished to achieve through acting. He asked, "What is your goal in this profession? What is the goal that you have for yourself in this profession."
ADVERTISEMENT
Article continues below this ad
Meanwhile, Perez was taken aback by Tyson's question. She responded saying, "My goal? Nobody has ever asked me that."
Further, she added, "My goal is to strive for excellence. I mean, I'll never be perfect, but I can at least strive for excellence. And, my goal is just to keep doing good work. But also to keep opening new doors because they treat you know latinos like crap."
Additionally, she mentioned how the Latin American community is treated by Hollywood. In fact, Perez also revealed she had to refuse roles because of how the characters were portrayed.
Tyson nodded in agreement to Perez stating that everybody's purpose was similar.
Mike Tyson takes revenge on his former promoter
Mike Tyson was not on the best terms with his former boxing promoter, Don King. The duo's relationship can be described as tempestuous as best.
ADVERTISEMENT
Article continues below this ad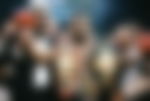 In fact, Tyson recently opened up about their tumultuous relationship. Tyson was talking to Jackass cast member Steve-O on his podcast.
In conversation, Steve-O reminded him of his relationship. He also gave emphasis on the fact that Tyson risked his life so that King can earn a lot of money. Tyson responded by saying that he got his revenge by becoming massively successful.
ADVERTISEMENT
Article continues below this ad
WATCH THIS STORY – Michael Jordan vs Mike Tyson Net Worth Comparison
What do you think of Tyson's question to Perez? Let us know in the comments below.