The Marvel Cinematic Universe is in a sweet spot. After the release of Spider-Man: No Way Home this past December, Marvel Studios' Phase 4 is on fire. The year 2022 is looking spectacular, both with series (Disney+) and movies. If you've made it this far and are looking forward to either re-watching all the movies and series or starting from scratch in this exciting cosmos, read on. So, we update our article dedicated to explaining in what order to watch the movies and series of the Marvel Cinematic Universe (UCM) from Phase 1 to Phase 4.
Disney+ is already part of the subscriptions of any Marvel, Star Wars, Pixar and company lover. The service includes -among many other contents- movies of Marvel Studios superheroes and new contents of the MCU, such as the series of the already inaugurated Phase 4, like Wandavision, Falcon and Winter Soldier, Loki, Black Widow and Shang-Chi and the Legend of the Ten Rings. It is worth mentioning that the Disney+ platform is available on PS4 and Xbox One.
In what order to watch the Marvel Cinematic Universe movies and series?
Now, what is the right order to watch the Marvel movies? There are fans who prefer to introduce some variant or other for the following list, but we consider that the following is the most correct way to get to know the events so far without getting lost along the way. However, we will include 2 orders: premiere and chronological order. Iron Man, Captain America, Doctor Strange, Thor, Avengers, Spider-Man, Captain Marvel and many more. We also include a section dedicated to the UCM series, as well as the upcoming Marvel movies and series coming in 2022, 2023 and beyond!
Order to watch Marvel movies (by release date):
Phase 1
Iron Man (2008)
The Incredible Hulk (2008)
Iron Man 2 (2010)
Thor (2011)
Captain America: The First Avenger (2011)
The Avengers (2012)
Phase 2
Iron Man 3 (2013)
Thor: The Dark World (2013)
Captain America: The Winter Soldier (2014)
Guardians of the Galaxy (2014)
The Avengers: Age of Ultron (2015)
Ant-Man (2015)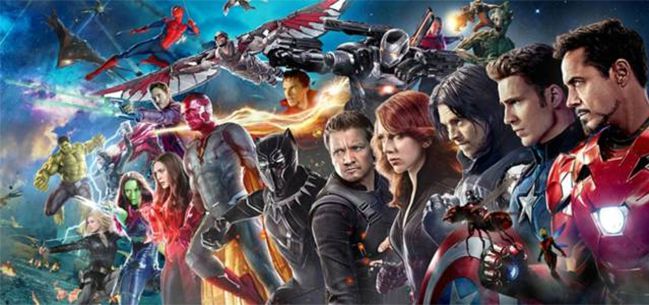 Phase 3
Captain America: Civil War (2016)
Doctor Strange (2016)
Guardians of the Galaxy 2 (2017)
Spider-Man: Homecoming (2017)
Thor: Ragnarok (2017)
Black Panther (2018)
The Avengers: Infinity War (2018)
Ant-Man and the Wasp (2018)
Captain Marvel (2019)
Avengers: Endgame (2019)
Spider-Man: Far From Home (2019)
Phase 4
Black Widow (2021)
Shang-Chi and the Legends of the Ten Rings (2021)
Eternals: (2021)
Spider-Man: No Way Home (2021)
Order to watch Marvel movies (in chronological order)
Captain America: The First Avenger (2011)
Captain Marvel (2019)
Iron Man (2008)
The Incredible Hulk (2008)
Iron Man 2 (2010)
Thor (2011)
The Avengers (2012)
Iron Man 3 (2013)
Thor: The Dark World (2013)
Captain America: The Winter Soldier (2014)
Guardians of the Galaxy (2014)
Guardians of the Galaxy 2 (2017)
The Avengers: Age of Ultron (2015)
Ant-Man (2015)
Captain America: Civil War (2016)
Black Widow (2021)
Black Panther (2018)
Doctor Strange (2016)
Spider-Man: Homecoming (2017)
Ant-Man and the Wasp (2018)
Thor: Ragnarok (2017)
Avengers: Infinity War (2018)
Avengers: Endgame (2019)
Wandavision (2021)
Falcon and The Winter Soldier (2021)
Spider-Man: Far From Home (2019)
Spider-Man: No Way Home (2021)
Loki (2021)
Eternals (2021)
Shang-Chi and the Legends of the Ten Rings (2021)
Hawkeye (2021)
Order to watch the Marvel series
WandaVision: (2021)
The Falcon and the Winter Soldier: (2021)
M.O.D.O.K: (2021)
Loki: (2021)
What If…?: (2021)
Hawkeye: (2021)
Marvel movies and series coming in 2022 and 2023:
Movies
Doctor Strange and the Multiverse of Madness – May 6, 2022
Thor: Love and Thunder – July 8, 2022
Black Panther: Wakanda Forever – November 11, 2022 2022
The Marvels – Feburary 17, 2023
Guardians of the Galaxy Vol. 3 – May 5, 2023
Ant-Man and the Wasp: Quantumania – July 28, 2023
Series
Ms. Marvel – verano de 2022
Moon Knight – 2022
She-Hulk – 2022
The Guardians of the Galaxy Holiday Special – Holidays 2022
X-Men '97 – 2023
Upcoming Marvel movies and series with no date set
Movies
Blade
Deadpool 3
Fantastic Four
Capitán América 4
Untitled Shang-Chi sequel
Series
Agatha: House of Harkness
Armor Wars
Echo
I Am Groot
Ironheart
Loki Season 2
Marvel Zombies
Spider-Man: Freshman Year
Secret Invasion
What If…? Season 2
Untitled Wakanda series