There now seem to be 3 certainties in life; Death, Taxes, and the MLB lockout. Having started early in December, the labor strike does not seem to be ending anytime soon. Purportedly only a measure to hurry negotiations, the lockout seems to be doing the opposite. Under the lockout, no player moves are able to be registered and no teams are allowed to speak to players. Hence, Mookie Betts seems to be making the most of this lockout, building an online gaming presence.
ADVERTISEMENT
Article continues below this ad
The Right fielder for the LA Dodgers seems to have made the most of his time home, increasing his online footprint. With an online gaming channel on YouTube, Betts seems to have found a great way to let off steam while the lockout labors on (excuse the pun).
ADVERTISEMENT
Article continues below this ad
Mookie Betts – Online Gamer?
The Dodgers' #50 recently undertook a tweet escapade online from his official handle in which he revealed his new identity.
I've been having fun #gaming in my free time and making content. Tweet me questions and I'll feature some your tweets in a video on my upcoming @YouTubeGaming channel.

— Mookie Betts (@mookiebetts) January 21, 2022
Mookie Betts seems to have put some thought into his freshest foray here. With him looking at starting a new channel for his gaming requirements, Mookie Betts even raised a gaming question prior to his most recent announcement.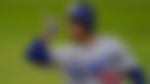 I may not be an expert here, but Mookie looks to be expanding into the gaming community quite professionally. With a YouTube gaming account, Mookie could well start working on his gaming channel and organically grow that community in the lockout. Showing no clear signs of the lockdown being at an end, the gaming channel could provide Mookie some much-needed respite.
Maybe some "The Show 2022" streams could be lined up too.
 WATCH: LA Dodgers Star Mookie Betts Bowls Perfect 300 Score
An LA Dodger through and through
ADVERTISEMENT
Article continues below this ad
Mookie Betts and the LA Dodgers' love affair goes back to the 2020 season when Betts signed a blockbuster extension with the Dodgers. Betts set a record with his extension in 2020, signing onto the dotted line with the Dodgers.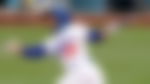 The 12 year, $365 million extension, would make the former American League MVP an extremely happy camper. The deal made Betts the highest valued re-signed prospect in the majors. His contract beat Mike Trout's $360 million extension with the LA Angels and included a whopping $65 million signing bonus.
ADVERTISEMENT
Article continues below this ad
However, Mookie Betts had an underwhelming 2021. Exiting season in July, he was placed on the injured list by the Dodgers subsequently for a hip injury.
Betts will be looking to make 2022 his year when it resumes and while it does, he can always hope to game and keep himself occupied at the very least.