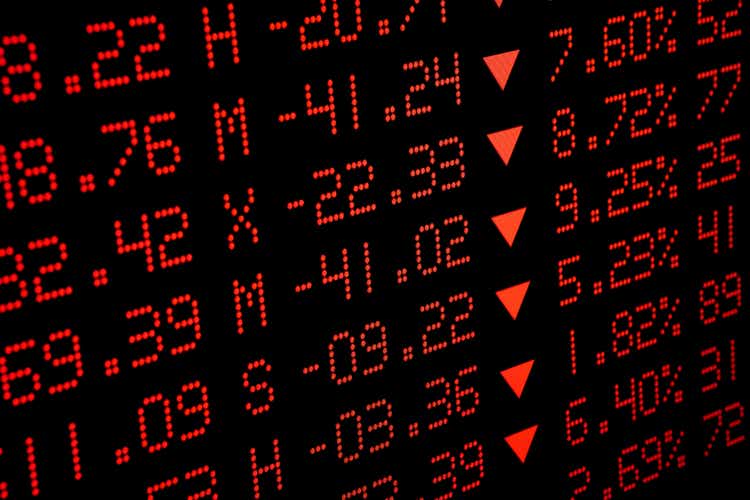 We recently witnessed significant declines in major stock market averages, as stocks underwent their most substantial correction since the coronavirus-induced meltdown in 2020. The S&P 500/SPX (SP500) cratered by 12.5%, and the Nasdaq Composite (COMP.IND) crashed by 19% from peak to trough. Many specific companies got hit much worse, as many of the most widely held stocks declined by 20%-50%, essentially going through severe bear market-like declines in a few months. As the Fed tightens monetary conditions, we should see more volatility surges. Moreover, if the Fed presses too hard, it may bring stock markets to a breaking point, after which a bear market could ensue. Therefore, we want to monitor for warning signs, remain diversified, and hedge when necessary to take advantage of market conditions, protect portfolio gains, and even profit when the stock market declines.
SPX 1-Year Chart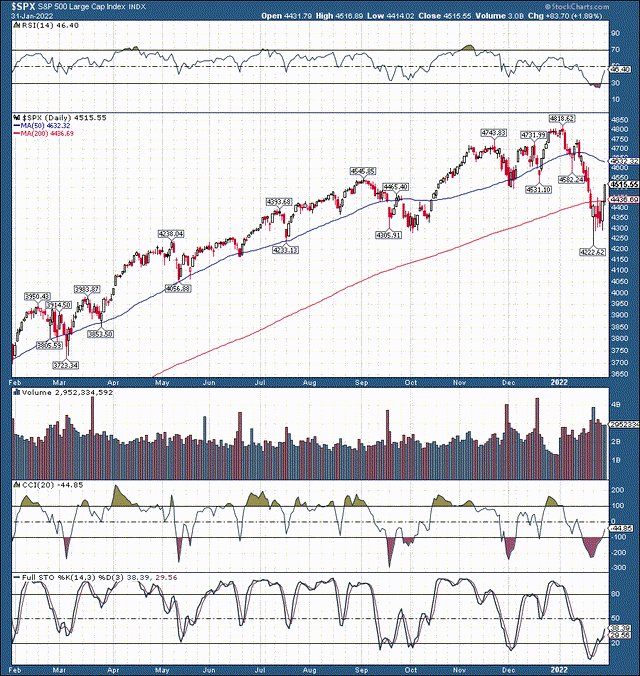 We saw SPX go through a substantial correction before bouncing back from highly oversold levels. The major stock average finally found support around the critical 4,200-4,300 region.
Nasdaq 1-Year Chart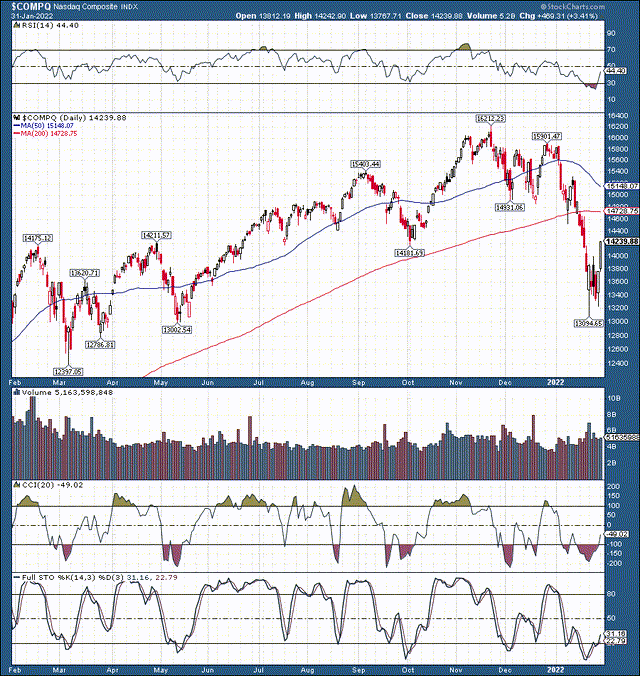 Due to the higher concentration of technology and growth names, the Nasdaq experienced a steeper decline of nearly 20% before bouncing off the critical support level around 13,000. During the height of the selloff, essentially all of the gains from the prior year got erased.
Advanced Micro Devices (AMD)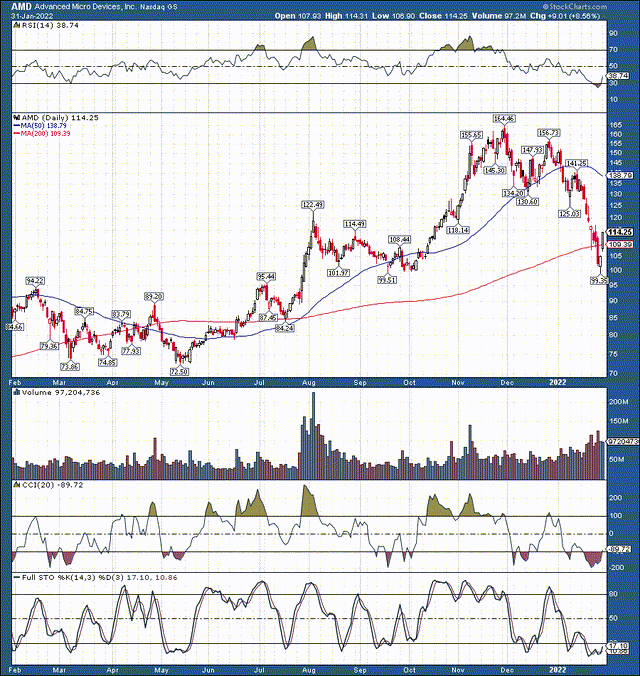 One of Wall Street's favorite hot stocks, AMD, melted down by around 40% during the recent selloff.
Nvidia (NVDA)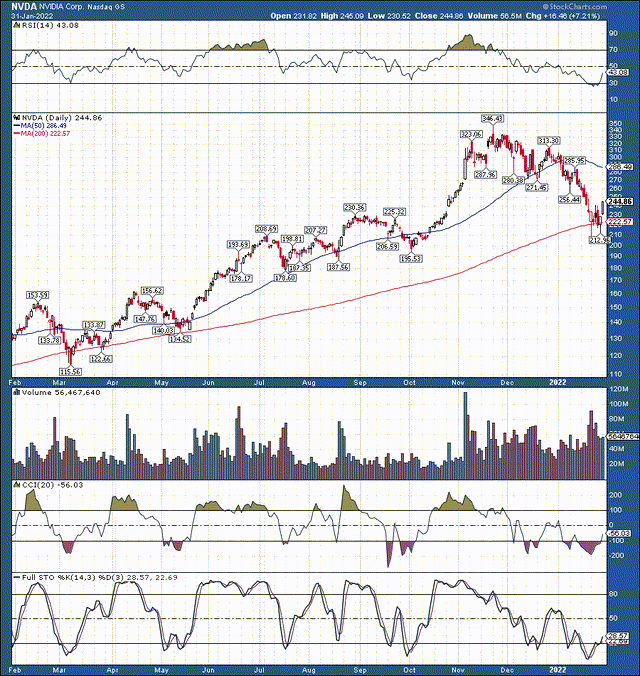 During the recent declines, another Wall Street darling, Nvidia, crashed by about 38%.
Microsoft (MSFT)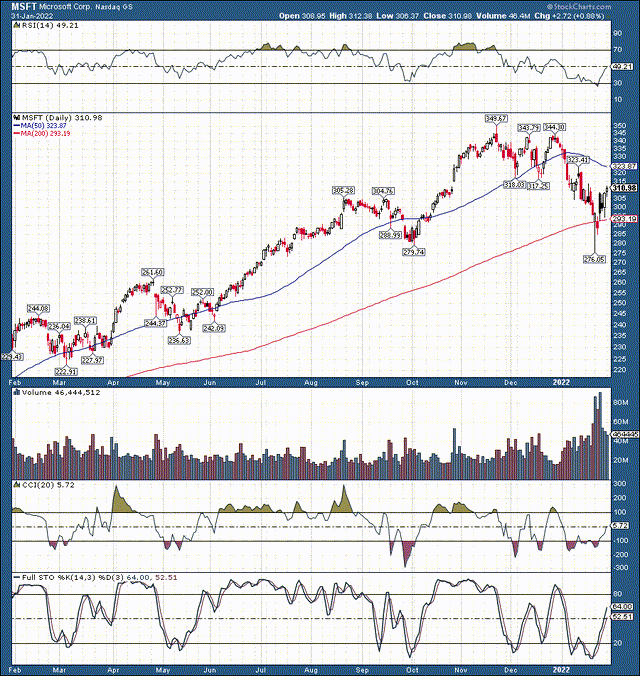 Many investors perceived Microsoft as bulletproof, yet its stock cratered by 20% in the recent selloff.
Palantir (PLTR)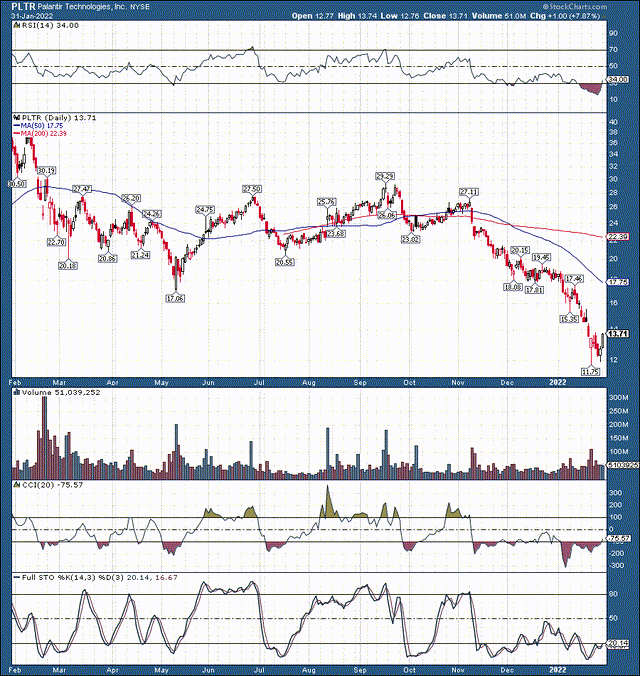 Many smaller names like Palantir were battered much worse. Palantir dropped by 57% before rebounding in recent sessions from the November tech-top. However, declines in smaller cap growth names began earlier, and Palantir gave up around 70% from its 52-week high before the relentless selling stopped.
The Takeaway
The Fed is tightening monetary conditions now. QE is winding down, interest rates are increasing, and the Fed will probably start offloading its bloated balance sheet soon. This policy is a significant change from the recent highly loose monetary stance. Therefore, the flood of liquidity that's been driving stocks to obscene valuations should gradually decrease as the Fed tightens.
The recent correction was a product of the Fed's new monetary stance, as stock valuations needed to adjust to the new economic environment. However, the Fed's tightening path is just starting, and we may have a long road ahead before inflation is brought down to acceptable levels. Therefore, we should see more volatility surges as we advance from here, and we will probably see them materialize around Fed events.
Moreover, while we are still in a bull market, 2022 will likely differ from prior years. Due to the higher interest rate/lower growth dynamic near-term upside may be limited for stocks. We should see more volatility, and we are likely looking at more of a stock pickers market with more trading and hedging opportunities than before. Furthermore, the Fed's tightening agenda will eventually bring markets to a breaking point, after which a bear market should take over and could pummel stocks far worse than the recent textbook correction of 10-20%.
How To Profit From The Next Crash
While we cannot know precisely when the next stock market correction, crash, or bear market will come, we should get some warning signs when the next downturn approaches. Every situation is different, but there are some signs we can look for when preparing for the stock market to decline. Before a significant downturn occurs, we typically see a combination of technical, fundamental, and psychological factors converge.
For instance, I started warning of an upcoming downturn early as I began seeing warning signs last November. Some of the red flags I noticed were highly overextended stock valuations, overly bullish/greedy sentiment, overheated technical conditions, coupled with a less bullish fundamental backdrop due to Fed tightening and other elements. Again, we probably will not see the same factors before the next downturn, but we should see some of the same characteristics and new obstacles in the market.
The first critical factor to consider is that it is essential to remain diversified. You never want to have all of your eggs in one basket, and you certainly don't want to own a bunch of high multiple growth stocks (without hedges) during a stock market decline. I spoke about this dynamic in a late-November article, as the tech market looked like it topped.
While many stocks moved into ludicrous valuation territory, the Nasdaq and many top individual stocks put in clear blowoff tops in November. This price action was the signal to rotate towards more value-oriented sectors. It's important to remain diversified under any market condition, but more so during periods of uncertainty and potential stock market declines.
The All-Weather Portfolio ("AWP") remains highly diversified at all times. Right now, I have top companies split up into six portfolio segments. In addition, I keep part of my assets in gold, silver, and gold/silver mining companies ("GSMs"). Finally, roughly 10-15% of portfolio assets are in a diversified cryptocurrency basket. While I'm essentially fully invested right now, this was not the case coming into the year.
As the downturn seemed inevitable, I came into the year with a massive 32% cash position. Moreover, I rebalance my portfolio every quarter, and given the probable tech-top, I began the new year with very few high multiple growth positions. Instead, I rotated capital toward more value-oriented holdings. Perhaps most importantly, I hedged, and I began hedging early as the high-growth tech bubble began to burst.
I primarily implemented the simple options strategy of selling slightly out of the money covered calls on my portfolio's riskier positions. Then, I took the premium from the covered call sales and I purchased well out of the money put options going out several months. I opened most option positions throughout December, and when I closed out most hedges around the correction lows, many put option positions had appreciated by several-fold.
Thus, a relatively modest hedging position turned into substantial profits and substantially boosted my portfolio's returns. Moreover, I did not risk anything as the put options were purchased with the premiums I received for selling covered call options. Due to effective hedging, diversification, and value rotation, the AWP is up by approximately 8% YTD. At the same time, the S&P 500 is still down by more than 5%, and the Nasdaq is down by roughly 9% YTD. Even if we exclude hedging, GSMs, and digital assets, the AWP's diversified stock holdings alone are up by approximately 1.3% YTD, substantially outperforming major stock market averages.
The AWP Breakdown

Moving Forward
The bottom may be in for now, but this does not mean that stocks will start to melt up to new ATHs soon. As the Fed advances with its tightening agenda, markets will likely remain volatile for some time. We will probably see more volatility surges, especially around Fed meetings and other market-moving events. Therefore, we should see more standard (10%-20%) corrections, and we should have plenty of opportunities to hedge moving forward. Moreover, as the Fed moves rates higher and ultimately reduces its balance sheet, the tightening dynamic will likely push stock markets to a breaking point. If the Fed tightens too much, economic growth could falter, leading stocks to a more significant decline and possibly a prolonged bear market. The upcoming bearish atmosphere will undoubtedly create hedging opportunities and offer market participants plenty of possibilities to make money as the stock market declines.