The glory days of Fortnite and Ninja back in 2018 saw the duo make and break records. The streamer was in his prime, pulling in millions of views each month, as the community simply loved seeing the former professional player decimate his competition. The now 30-year-old streamer even got a chance to visit a famous TV program, TheEllenShow.
ADVERTISEMENT
Article continues below this ad
The TV show's host, Ellen DeGeneres, learned about Fortnite through a dance routine portrayed by a guest that piqued her internet. She invited the streamer. Tyler 'Ninja' Blevins to help her learn the game. What transpired was truly hilarious, and it will leave you bursting into laughter, or it might make you cringe.
ADVERTISEMENT
Article continues below this ad
Video Source: TheEllenShow
Ninja tried his best but Ellen simply failed to grasp the game
The American streamer was quite ecstatic to be featured on the popular TV show. Ellen introduced him to her audience and proceeded to play a clip where the duo hoped onto a lobby. Ninja's tutoring helped her to experience the game, as the streamer continued to explain the basics of the Battle Royale title. However, no amount of help was enough to help the TV host, as she aimlessly wandered on the map.
Ellen even failed to learn how to shoot, and the duo was quickly eliminated from the game. At one point, she even requested Ninja not to kill other players on the map, but instead try to befriend them.
The streamer broke out, the 'Infinite Dab' dance routine to extend a hand of friendship, but was quickly shot down and denied. Ellen concluded that she did not learn anything at all, but thanked the streamer for taking time out of his busy schedule for her.
ADVERTISEMENT
Article continues below this ad
"Thank you very much for being here. You flew in just to play Fortnite with me and I've learned nothing. You're awesome, yeah."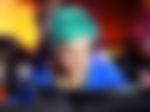 ADVERTISEMENT
Article continues below this ad
Watch this story: Video Game Franchises Returning to Consoles
It was such a massive moment for gaming to be finally featured in the mainstream media in a positive light.  Moments like these helped bring esports and gaming into the spotlight and even pitch it as a possible career that allows you to make a living.