On both ends of the country, Nerd Street Gamers hosted the first two major Valorant LANs outside of the VCT Circut. The west coast event, the Frag Major Fullerton happened and was won by ex-Serenity Black. On the east coast, however, was the Frag Major Philadelphia hosted at The Block in Philadelphia, Pennsylvania. Sixteen teams from across the country came together to fight for the title of Frag Major Champion and part of the $7,500 prize pool. The Game Haus was granted access to the event and here is what happened.
Group Stage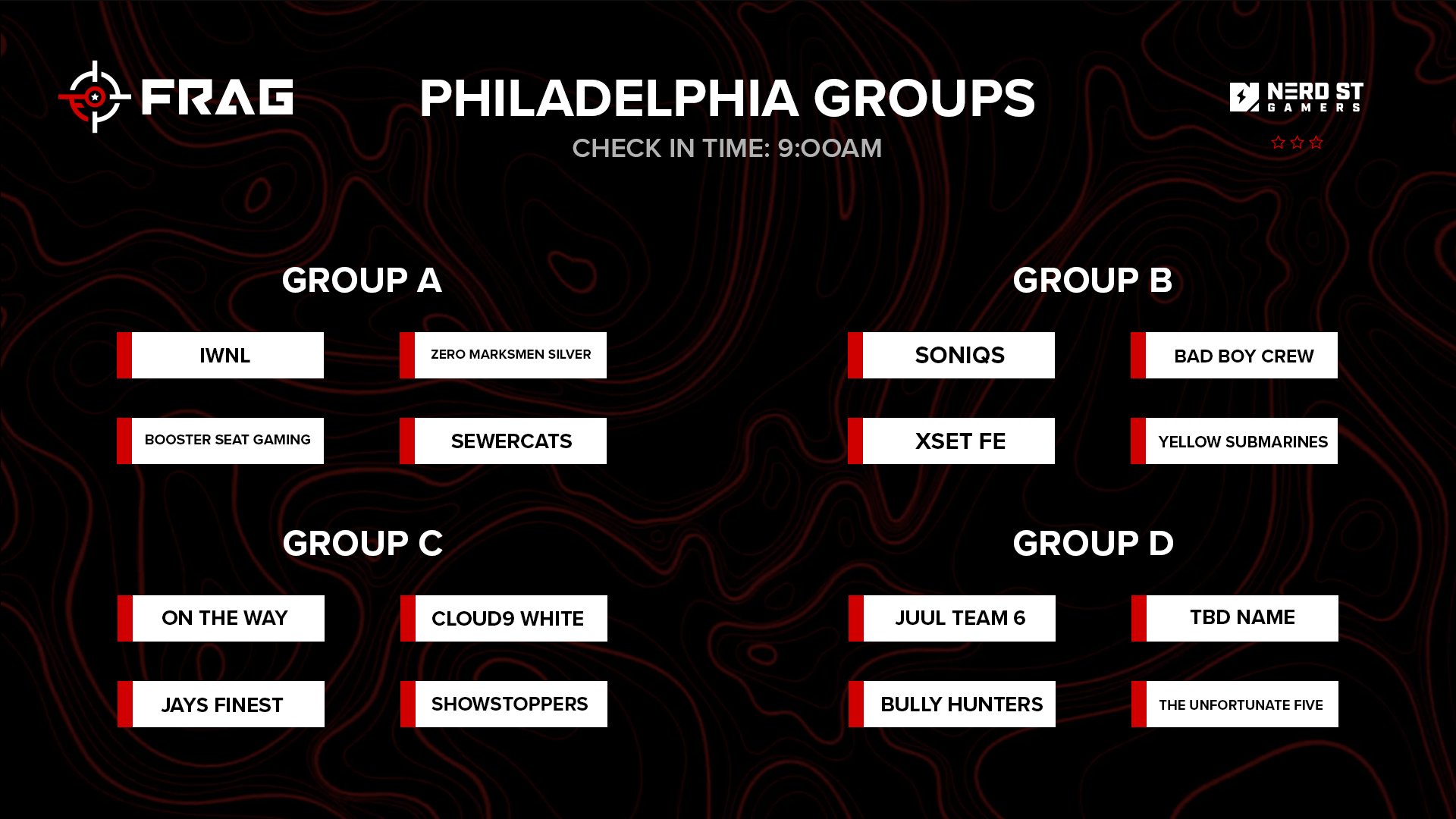 Group A
Entering play, it felt like a lock that IWNL would win Group A. They were a roster composed of current and former tier-one players: Corey "corey" Nigra, Braxton "brax" Pierce, Ian "tex" Botsch, Shawn "witmer" Taylor and Daniel "Rossy" Abedrabbo. Instead however, they were upset in the opening round of the group stage by Booster Seat Gaming. BSG were a roster centered around T1 Academy members Victor "v1c" Truong and Alexander "Jawgemo" Mor. The tight match features two 14-12 games that featured both teams pulling haymaker after haymaker. BSG clutched it out in the end and produced a 3-0 run in groups. INWL qualified for the quarterfinals after finishing second place in the group.
Group B
The Soniqs were the favorite by far to make it out of the group, and they did so as the first seed from the group. The mainly Australian roster, that was imported to NA, is a team that has run the tier two scene for the majority of the past year. It was not without a scare from Bad Boys Club though. In the end, it came down to Bad Boys Club versus XSET Female for who would make it out of the group. Bad Boys Club ending coming out on top via their head-to-head win over XSET Female.
Group C
The one big-name team in the group was C9 White, but there was no guarantee they would make it out. This group also included On The Way, a roster compromised of players from multiple tier-one teams. This included TSM FTX's Sean "bang" Bezerra, SoaR's Alexander "zander" Dituri and Complexity's Brock "brawk" Somerhalder & Joel "jcrueL" Cruel. While On The Way won the group, C9 White didn't make the playoffs. Jay's Finest, a roster composed of multiple players from Limit, qualified into playoffs.
Group D
The group was won by Team Name, a roster composed of Team Basilisk's Anderson "Nanners" Lutkehus, ex-Time In player  Austin "Morgausse" Etue and ex-Flickbaiters players James "Nurfed" McFadden & Yassin "Reduxx" Aboulalazm. Their chemistry and fragging power overpowered the rest of the group. Meanwhile, Juul Team 6 came out of the group in second place. This was a roster with names like Complexity's Michael "agM" Abood and Akrew's Andrew "gucc107" Gutnichenko. Their swift results led versus C9 White and Showstoppers lead them into the playoffs.
Quarterfinals
During the first quarterfinal, On The Way faced Juul Team 6 in a battle of PUG teams. OTW opened the first map up 8-4 and never looked back. Seven rounds later, On The Way claimed the first map behind the performances of jcreuL and Stellar. In map two, Juul Team 6 pushed OTW in the first half to a 6-6 scoreline. That did not hold for much longer though. Despite JT6 putting up a valiant challenge, OTW won the match in a swift 2-0 fashion, 13-6 & 13-8. jcrueL lead the way in the series with a 37-25-6 scoreline with a 262 ACS.
In the second quarterfinal, Team NAME took on Jay's Finest in a battle of tier two talent. Team NAME opened up the first map with a swift 9-3 lead. Jay's finest attempted a comeback, but failed to mount enough momentum and lost Breeze 13-8. Map two was a much tighter affair. After a tight 6-6 half, Team NAME was able to string enough back-to-back rounds together. Jay's Finest put up a good fight, but Nanners proved to be too strong of a force. His sentinel play was the key to helping Team NAME top Jay's Finest in 2-0 fashion.
Booster Seat Gaming vs Bad Boy Crew
In the last match of the night to finish, BSG beat Bad Boy Crew to make top four and play on the main stage tomorrow. Congrats to @v1c_cs, @jawgemo and crew on the massive LAN win. See you on the MAIN STAGE! pic.twitter.com/LgRzlSFJmZ

— Christian Wisniewski (@TheWiz_SPM) December 19, 2021
Map one opened with a bang as Bad Boy Crew handed BSG their second map loss of the entire tournament. The resounding 13-6 win came off the back of a strong 19-8-8 performance from Crit on Skye. Bad Boy Crew was on pace to upset BSG on Split and claim the series, but then BSG's split magic returned. Booster Seat Gaming won seven of their eight defensive rounds to win Split 13-8 and force map three. On Breeze, Bad Boy Crew opened up 6-1 on attack and once again looked to shut the door. Just like Split though, BSG ran the table after an early deficit. Following that 6-1 lead, BSG won 12 of the next 13 maps to win the map and the series 2-1.
INWL vs Soniqs
INWL took the opening map of the series, Icebox, in 13-8 fashion behind strong chamber play from Tex. Late in map two, INWL were on match point and poised to take the series up 12-9 on Fracture. However, Soniqs won five straight rounds to win the map 14-12 in OT. When it came time to play Breeze for map three, it felt like INWL ran out of steam. They exited the first half of the map down 9-3 and were staring elimination in the face. Now on the attack, the life returned to their gameplay and they rattled off six straight rounds to even up the map. It ended up not mattering though, as Soniqs claimed four of the next six maps to win the series in 2-1 fashion. 
Semifinals
Booster Seat Gaming 2-0 over Team NAME
Championship Sunday opened up with the first semifinal between Booster Seat Gaming (BSG) and Team NAME. By the end of the first map, the match felt like it would feature two distinct halves. Team NAME took early advantages on both maps, but BSG would always equalize the match by halftime. After halftime, BSG would win round after round to eventually win both maps. That was nothing new for BSG. All weekend, in nearly every game, the team thrived in the second half. Despite the best attempts from Nanners and Co, a tournament-best performance from Virtyy was BSG's key to winning the map 2-0.
On The Way 2-0 over Soniqs
The second semifinal of the day was between Soniqs and On The Way. The battle between the signed tier-two kings versus the team full of tier-one players PUGing together felt like an uneven fight early on. Soniqs claimed map one in swift 13-4 fashion behind Jsung and Crunchy's strong performances. It felt the same in map two after Soniqs went up 8-4 at the half, but something changed. On The Way won every single round the rest of the way to win the map 13-8. With the final map being Breeze, things were about to be crazy and were crazy. The 23 round affair ended 13-10 in favor of On The Way thanks to Bang producing multiple back-breaking flanks in the later rounds.
Grand Final: On The Way 2-0 over Booster Seat Gaming
In the end, the Grand Final ended up being between two strong PUG teams with two different groupings of players. OTW featured tier-one players on major orgs playing together for fun. BSG was a team full of tier two or Academy players hoping to be noticed by organizations to get their shot at the big time. One would think OTW would win this match easily, but this match was anything but easy.
Map one was a 15-13 win for OTW and BSG made them fight for it. The teams traded 7-5 halves on Haven, a map BSG suffered a crushing loss on in the quarterfinals. To end the second half though, BSG won three rounds in a row, including an absurd 4k clutch from v1c to force overtime. While BSG pushed them hard, they ran out of gas at the end of the map and Zander shut the door on a comeback with strong play in garage.
Map two was on Booster Seat Gaming's perma-pick, Split. They had not lost the map once during their entire run and produced some of their most iconic plays during their run on it. BSG started the map strong on a 5-2 run, but then Bang came fully online. Despite desperately attempting to push it to another OT, BSG ended up falling short. OTW, behind Bang's Raze play, won 11 of the next 17 rounds to claim Split 13-10 and win the Frag Major Philadelphia.
Tournament MVP: Leandro "Virtyy" Moreno
Big spray by @Virtyyyy to get three! pic.twitter.com/XzOQvmjve9

— Christian Wisniewski (@TheWiz_SPM) December 19, 2021
While most people would lean towards choosing someone like Bang or Zander, that feels unfair. Yes, they were on the winning team but they did not have outstanding personal play throughout the playoffs. They always had other top players to fall back on. Despite losing in the Grand Finals, Booster Seat Gaming would not have been in the Grand Finals without Virtyy. His group stage performances were relatively good, but once playoffs came he went to a new level. Virtyy ended the playoffs +28 across four different agents. That was the second-highest in playoffs behind OTW's Brenden "stellar" McGrath, the other MVP option from this tournament. When his team needed him most, he came up big. Even during the quarterfinals, he had a ridiculous 1v4 on Jett to seal a key round for BSG. Stellar may have gotten the win, but Virtyy was the tournament MVP and gained the most from his performance.
---
Need More?
What do you think? Tell Christian about what you thought about Fragadelphia Philly on Twitter at @TheWiz_SPM.
Follow The Game Haus for more sports and esports coverage.
Twitter: TGH Esports
Facebook: The Game Haus
"From our Haus to Yours"
Related