All week there's been talk amongst the Fango fam about a Nor'easter rolling in. As a born and bred Californian, I don't entirely know all that entails or how one prepares for such a warning. I mean, the vague concept of a really big blizzard, sure. But it sure sounds scary and I imagine in the best case scenario it entails sort of hunkering down and staying warm, ideally in front of a fireplace if you've got one, beneath a blanket or two, and cozying up with some horror movies. At least, that is likely how I would spend a blizzardy weekend. There are many inherently scary elements about horror movies that take place in the snow. Perhaps partially because it's already starting off somewhat foreign to me. Also, being cold sucks. But the concept of being stranded or cut off is a terrifying thought in itself. Most of these movies on this list, take that aspect and crank it way up to eleven by tossing in some elements that would top the list of "Things You'd Least Likely Want To Be Stranded With" like werewolves, supernatural entities, and axe-wielding maniacs just off the top of my head. Also, there is something incredibly cinematic about blood splatter on snow. A streak of crimson glaring against a stark canvas of white. It just lends itself to good visuals!
So should you find yourself hunkering down and cozying up, here's a list of ten snowy horror movies to keep you company while you make the most of waiting it out. May you stay safe and warm, and may your power remain on for the duration of the storm.

The Thing
Maybe this one will warm you up, because however cold it is where you are, it's unlikely that you are in the midst of remote Antarctica temps. A flame-thrower, shape-shifting, parkas, and the feel-good vibes of "do not trust anyone under any circumstances." It hits differently in a covid-world, sure. But let's just focus on the freezing temps, the flame thrower and the creepy creatures.
The Thaw
Let's stay in the Arctic for a bit longer. We're feeling the very cold, very dangerous expedition theme. A deadly prehistoric parasite has been released from melting polar ice caps and that is bad news for the ecology students in the vicinity, and the world at large. Parasitic horror always lends itself to some really grotesque and squeamish imagery and this is no exception.
The Shining
A little peace and quiet with the family! Cabin fever is taken to new heights when you shake it up with some supernatural entities who will shoot the shit with you at the bar and may or may not be encouraging you to kill your family. Also, snowy labyrinth showdown is extra chilling.
The Lodge
Let's keep the family getaway theme going! A cozy little family vacation, consisting of two kids and their Dad's new girlfriend. A blizzard traps the trio in their remote cabin, cut off from everything and everyone as things take a turn toward not-so-great. (The scenario, not the plot). A bit of a psychological mind melt as what's real and what's not can't entirely be trusted. The one thing I do have trust in— excessively remote locations seem increasingly less romantic and more potentially problematic all the time.
Dead Snow
Nazi zombies in the snow. If that doesn't sell you on it, then this is probably not the one for you. Now go forth and behead some Nazi zombie bastards.
Werewolves Within
Let's head to Beaverfield to get the hot goss and wait out the storm at the inn. There's safety in numbers, right? Sure, so long as the killer is not amongst you, stuffing bodies under the porch and hiding out in plain sight, a werewolf within.
The Wolf of Snow Hollow
Paired with the above, you've got yourself a solid werewolves-in-the-snow double-feature vibe. Bodies are piling up in the wake of a full moon and a stressed-out local police officer is tasked with hunting down the bloodthirsty culprit. A stressed-out local police officer brought to life in such a way that only Jim Cummings could.

Let The Right One In
If vampires are more your speed, we've got you covered. Eli is a twelve-year-old ("more or less") new kid on the block and befriends sweet Oskar who is habitually bullied by a trio of little punks at school. This all takes place in a snowy white locale where it's cold enough to freeze your snot and is perhaps even colder than Eli's skin. A sweet, blood-sucking, coming-of-age tale with lots of that crimson splatter across the stark snowy white. Maybe don't watch this one with your cats.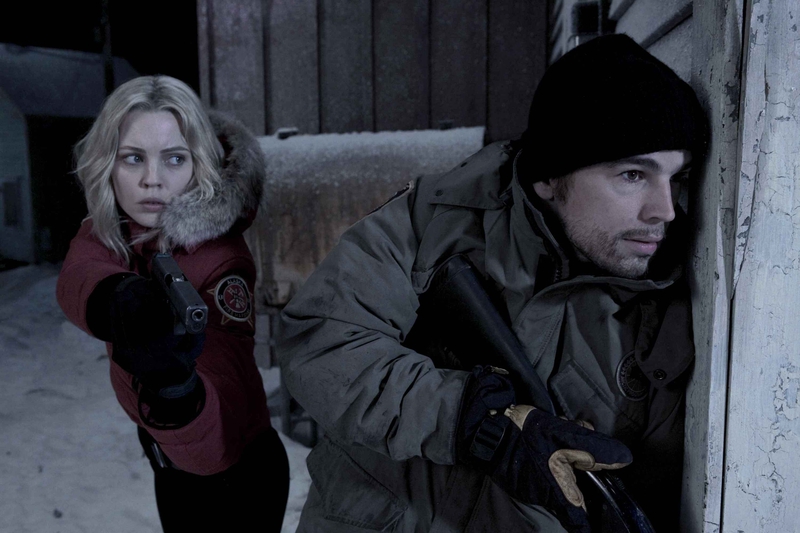 30 Days of Night
More vampires! And also… Josh Hartnett. In the tiny town of Barrow, Alaska residents head south for the winter to escape the titular 30 days of night that befalls the area. A few brave souls stay behind, and this year they've got some visitors. Vampire visitors. Bad news when surviving until dawn stretches out for a month-long fight for your life. Hardly seems fair, the vamps practically have homecourt advantage, unbothered by lack of the sun's light, warmth, or snow-melting capabilities.
Frozen
No, not that Frozen. As we've already discussed, stranded in the snow = terrifying. But cabins at least are spacious and provide some level of warmth and protection from the elements. What happens if you're stranded on a ski lift, totally exposed to the elements, dangling high above the snowy terrain below? Brought to you by Adam Green (Hatchet), so you know it's not a feel-good-friends-on-a-weekend-ski-trip romp.
There you have it, sending love to you all from California. Maybe I'll even join in on some of these cold-weather watches. Here's a handy Letterboxd list of our snowy picks, with a couple of additional bonus titles.